Massey Ferguson
MF4700 Global Series
A Globally Renowned Tractor Designed For All Challenges
3 Models | 74hp (55kW) - 95hp (71kW) | Cab or ROPS
Pickup Or Delivery
Stock: Enquire Online
---
Description
Massey Ferguson has taken the concept of the utility tractor and re-engineered it from the ground up to meet the needs of present and future farming.
Massey Ferguson knows exactly how crucial it is that a tractor meets the challenges that nature can put in the way of any farming activity. With the Global Series, each component and every assembly has been designed to ensure rock-solid reliability and dependable operation.
The practical, straightforward MF4700 series is available in two specifications – 'Standard,' and 'Essential'. Both feature a 12 x 12 synchromesh transmission, with the Standard specification offering mechanical clutch operation, and the Essential specification featuring hydraulic operation and a Power Control shuttle lever, for clutchless forward and reverse shifting.
Cab or ROPS versions are available. ROPS versions maximise straightforward operation and user friendliness, while the Cab MF4700 provides an ergonomic modern interior, with fantastic 360° visibility.
Features
Key Features
3 cylinder 3.3L AGCO POWER Engine
12 x 12 synchromesh transmission with synchronised shuttle
Pivoting front bonnet
Footstep or Semi Platform or Operator Station
4WD front axles
Electro-hydraulically engaged rear differential lock and 4WD
Electronic Linkage Control (ELC)
540 or 540/540E Independent PTO
Two Auxiliary spool valves
Gear Driven Open Centre Hydraulic System
Folding ROPS with optional steel canopy
Engine
Proven power, perfect package – Renowned for compact, proven power and fuel efficient reliability, a 3.3-litre AGCO POWER three-cylinder engine is at the core of the Massey Ferguson 4700 Series. Max torque ranges between 296Nm (MF4707), 342Nm (MF4708) and 355Nm (MF4709).
Transmission
The Massey Ferguson Global Series tractors feature all new synchromesh transmissions. With six automotive-style synchronised gears and a synchronised low to high range change, the total of twelve forward and twelve reverse speeds provide unmatched flexibility and easy use.
Shuttle Options
Standard specification – Synchronised mechanical forward and reverse shuttle. Fitted to all Standard Variants is a simple, yet exceptionally easy to use synchronised mechanical forward and reverse shuttle located to the left of the operator's seat. Clutch operation is a simple and effective mechanical dry-plate type giving great functionality in a cost effective package.
Essential specification – Power shuttle – Forward to reverse as quickly as you like. For the ultimate in forward and reverse shuttle operation, the Essential Variant is available with the Massey Ferguson Power Control Lever. Similar in design and operation to the Power Control Lever featured on Massey Ferguson products such as the MF 7700 and MF 8700, the new Power Control Lever is located to the left of the steering column and features Comfort Control to alter the aggressiveness of the direction change. Coupled with a multi-plate wet clutch and the 12×12 synchromesh transmission, this gives the operators a highly flexible and easy to use system designed for operations such as loader work where frequent changes of direction are required.
Power Any Implement
There is no limit to the range of powered equipment that can be put to work behind the Global Series tractors. All are fitted with a 35 mm/six-spline PTO shaft providing a 540 rpm PTO speed and protected by an independent PTO clutch (IPTO). 540/540E is base on all Global Series Essential models. The gear pump open centre hydraulic system produces 65L/min for the MF 4700 Series. This also supplies the electronic controlled rear-linkage to give a lift capacity of 3,300kg.
Models
MF4707 – 74hp, 'Standard' specification in ROPS, 'Essential' specification in ROPS or Cab
MF4708 – 82hp, 'Standard' specification in ROPS, 'Essential' specification in ROPS or Cab
MF4709 – 95hp, 'Essential' specification in ROPS or Cab
Specifications
Please download the Massey Ferguson Global Series bochure for more information.
Manufacturer's Website
Massey Ferguson – www.masseyferguson.com.au
---
Have a question about this product? Call or visit our stores or enquire online.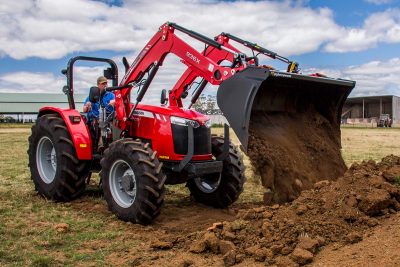 VIDEO
DOWNLOADS
---
---