Versatile Workhorse With PowerShuttle And Auto PTO
5 Models | 58hp (43.25kW) - 76hp (56.7kW) | Cab or ROPS
Pickup Or Delivery
Stock: Enquire Online
---
'BUILT WITH MORE BITE!'
RX6030 CAB with front end loader and 4-in-1 bucket from $60,595 inc gst!
RX7030P ROPS with front end loader and 4-in-1 bucket from $54,995 inc gst!
RX7030P CAB with front end loader and 4-in-1 bucket from $67,995 inc gst!
RX8030P ROPS with front end loader and 4-in-1 bucket from $58,995 inc gst!
RX8030P CAB with front end loader and 4-in-1 bucket from $73,195 inc gst!

Offer available only while stocks last!
Visit your nearest showroom or enquire online today!
---
Description
With a deluxe climate controlled cab and the heaviest lift capacity in its class, the RX Series delivers ultimate comfort and incredible power. So you can take on the most demanding jobs without even breaking a sweat.
Productivity-focused features such as Auto PTO, hydraulic 4WD with diff lock, twin remote hydraulics and a 95L fuel tank ensure the RX Series is always ready to take on the task at hand. A smooth 24×24 transmission (available in both Synchro Shuttle and Power Shuttle configurations) ensures you'll always have the right speed for the job.
Features
24×24 Fully Synchronized Transmission
The fully synchronized transmission delivers smooth and easy shifting on the move. The 24 forward and 24 reverse speeds provide the operator with the range required for any type of job.
2256kg Lift Capacity
The RX Series features two external hydraulic cylinders for lifting implements, providing smooth lifting action and an incredible 2256kg lift capacity.
Auto & Hydraulic PTO
The standard rear PTO is easily engaged by the simple push of a button, while an additional 'Auto PTO' switch allows operators to control automatic engagement of the PTO. In this mode, the PTO will automatically stop when the implement is raised, eliminating exposure to the running implements. A safety interlock prevents the engine from starting when the PTO switch is left on.
Twin Remote Hydraulics With Integrated Joystick
Standard rear mounted twin remote hydraulic valves accommodate a wide variety of attachments and implements.
Hydraulic 4WD
The 4WD is engaged with just simple push of switch, and features a differential lock for difficult situations.
Increased Fuel Tank
The increased 95L fuel tank allows for more productive working hours without the need to refill.
High Projection Head and Working Lamp
A new projection head and working lamp provides operators with safer conditions in dark conditions.
Low Noise, Low Vibration
The RX Series features new anti-vibration technology from Kioti. This delivers dramatically reduced vibration levels, providing the operator with comfortable working conditions all day long.
Power Shuttle Lever (Power Shuttle Transmission Models)
The Power Shuttle Lever provides easy forward and reverse operation without using the clutch pedal.
Wider and Clearer view
The comfortable new cabin minimizes operator fatigue, and features improved wiper positioning and cabin sealing, providing better visibility and improved noise protection.
Improved Air Conditioning System
The improved Cooling and Heating system will ensure better working conditions for the operator, whatever the weather.
Adjustable Power Steering
With hydraulic power steering, the RX Series has smooth responsive steering that requires minimal operator effort regardless of the task at hand.
Deluxe Suspension Seat
Ergonomically designed-fully adjustable suspension seat with fabric seat allow the operator to ride in comfort no matter what the jobs may be. The seat back incorporates a built in pocket for storing of the operators manual.
Front End Loader (optional attachment)
The KL701 loader is equipped with a universal quick attach mounting system that makes attaching the bucket as simple as pulling an overcenter latch. A built in parking stand on the front-end loader provides for quick and easy connection. The KL701 Loader utilizes the tractor's hydraulic system, features single-lever control with float, and comes with a bucket level indicator.
Models
Syncro Shuttle Transmission
RX6030C (Cab)
Power Shuttle Transmission
RX7030P (ROPS)
RX7030PC (Cab)
RX8030P (ROPS)
RX8030PC (Cab)
Specifications
Please download the Kioti RX Series brochure for more information.
Manufacturer's Website
Kioti – www.kiotitractors.com.au/
---
Have a question about this product? Call or visit our stores or enquire online.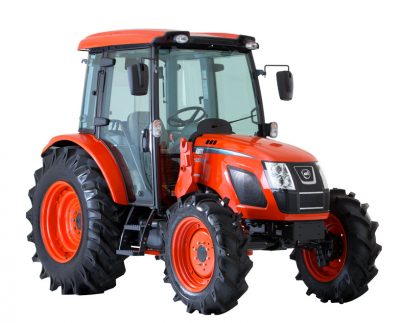 VIDEO
DOWNLOADS
---
---