KC Customer Takes Delivery Of New Tractor To Harvest & Mulch In A Single Pass
---
– In addition to being one of the most picturesque parts of the country, the Byron shire of Northern New South Wales is home to a staggering variety of food production – from coffee and avocados, to bananas and tropical fruit. In the pristine rolling hills of Eureka, located just west of Bangalow, Trevor Martin and his wife Barbara make their living owning and operating an 8000 tree Macadamia nut farm. They recently required an upgrade to their harvesting equipment, and so turned to KC Equipment to assist them in their quest.
Working with KC Equipment representative Paul Pattison, the couple decided upon a Fendt 211P tractor, with a macadamia harvester fitted to a front linkage and front PTO, and with a mulcher and receiving bin on the rear. This innovative tractor/harvester/mulcher combination demonstrates Trevor and Barbara's years of experience in operating the orchard, and combines smart thinking and best practice into a device that will save them fuel, time and labour.
The double-headed harvester was designed and manufactured by Lismore Engineering, who are renowned in the region for their macadamia nut harvesting and dehusking equipment. A local company with a long history of working with the region's producers, they've provided an exceptional piece of equipment that performs admirably in harvesting this uniquely challenging crop. The harvester features dual hydraulically-positioning sweepers, an Admac dehusker unit , a side-mounted bin feed.
The tractor at the heart of it all is a brand new Fendt 211P Vario. The Fendt 200 Vario VFP Series set the standards for technology and ride comfort in specialty tractors. The 'P' models are designed for hops, nuts and fruit-growing operations, with row widths from 2.2 to 5m, and feature a wider, more comfortable cab than their sister 'V' and 'F' models. 200 Vario models range from 75 to 115hp, and all feature Fendt's unique Vario CVT transmission. The mulcher on the rear is a Faustini, with the macadamia harvester's receiving bins mounted on top.
Paul says that the combination is "A clever solution, purpose-built for their orchard. I'm sure it will prove a reliable, effective partner in their operation for many seasons to come."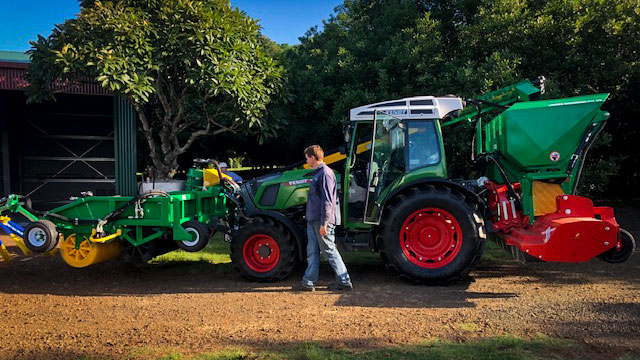 KC Equipment services the Agricultural, Golf, Sports, Commercial and Residential grounds care industries with a huge range of equipment from the world's leading manufacturers, including Massey Ferguson, Iseki, Kubota, and Jacobson. With over thirty years of experience, branches in Yatala, Lismore and Murwillumbah, and a huge parts and supplier network, KC Equipment can assist you with all aspects of your operation.
KC Equipment – for everything in your shed.

For any media enquiries, contact Jean-Paul Mollinger, Marketing Coordinator, on marketing@farm-equipment.com.au
KC Equipment would like to thank their Trevor & Barbara Martin for their participation in this article.