Massey Ferguson
MF8700 S Series
The Benchmark In High Horsepower Precision Farming
4 Models | 295hp (110kW) - 370hp (206kW) | Cab
Pickup Or Delivery
Stock: Enquire Online
---
NEW – Check out the MF8700 S Series in the Massey Ferguson Virtual Showroom
---
Description
Across the board, we have injected new thinking into the design and features of the MF 8700 S, to improve power, comfort, usability, efficiency and reliability.
Key Features
8.4L 6cyl SCR AGCO Power engine
Dyna-VT transmission for stepless precision
5000kg front lift capacity
12000kg rear lift capacity
1300 – 1540Nm max. torque
Features
Ultimate comfort and safety for more productive working day
Panorama Cab with plenty of room available, quietness and 360° visibility
Ergonomic and easy to use controls
New working light package with 18 LED lights extends the working day into night
New optional air braking systems for the tractor and trailers
Ability to work faster with most demanding implements
Superb rear linkage with extreme 12,000 kg lift capacity
Up to 6 spool valves on the rear, and 2 in the front
Standard 'Power Beyond' facility for more complex implements.
More power efficiency brings more traction
Up to 370 hp – The most powerful tractors ever made by Massey Ferguson, designed for the ultimate in output, with low running costs
CYCLAIR system designed to match the prodigious power output produced by industry leading 8.4 litre AGCO Power engines
New Datatronic 5 terminal provides the latest user friendly Precision Farming Package
Datatronic 5, 9″ touch screen terminal created to provide a more intuitive and precise farming experience
New Auto-Guide™ solutions provide economy by reducing overlaps
AgControl™ allows you to adjust the application rate on the go, whilst automatically minimising overlap, skips and wasted product
TaskDoc™ creates and sends securely detailed records of jobs between field and office
AgCommand® telemetry for fleet performance and usage management
Efficient drive-lines bring higher productivity
Dyna-VT transmission with Engine Power Management to deliver more power when it is needed most
Perfect engine/transmission combination provide maximum outputs
Perfect tyre choice with more maximum traction and soil preservation
2.15 metre rear wheel diameter for better traction, reduced soil compaction giving the maximized performance to the ground. Michelin AxioBib 2 tyres option puts more lugs in contact with the soil, creating 'mini tracks' that lengthen the footprint by 26%, distribute the weight more effectively and improve traction by up to 28%.
Efficient Specification
The MF 8700 S range is available in one specification level: Efficient. This is a premium environment designed around a spacious frame and logical, carefully thought-out controls. Everything is to hand, with key controls all on the operator's right, and those used most often grouped on the armrest. The four-pillar cab frame design makes for superb 360° all-round vision to the sides and out to the extremities of wide implements, while the cab suspension ensures the operator is always on the level. The level of damping can be set in from the cab, to meet the driver's preference. Paired with a premium-class air-suspended operator's seat, the result is one of the most comfortable rides around. The Efficient MF 8700 S Package is dedicated to the intense, large scale operator looking for advanced features that will ensure cost effective benefits for their business.
Models
MF8730 S – 295hp, Dyna-VT transmission, 'Efficient' specification
MF8732 S – 320hp, Dyna-VT transmission, 'Efficient' specification
MF8735 S – 350hp, Dyna-VT transmission, 'Efficient' specification
MF8737 S – 370hp, Dyna-VT transmission, 'Efficient' specification
Specifications
Please download the Massey Ferguson MF 8700 S brochure for more information.
---
Manufacturer's Website
Massey Ferguson – www.masseyferguson.com.au
---
Have a question about this product? Call or visit our stores or enquire online.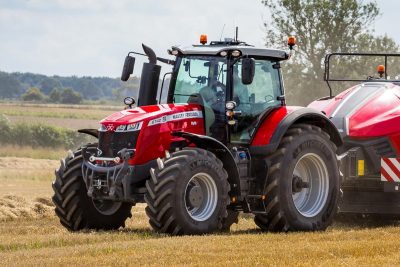 VIDEO
DOWNLOADS
---
---