Husqvarna
530iBX Blower (Skin Only)
Professional Use - Low-Noise, Big On Pefromance
Electric | 36V | 56m/s Air Speed | 2.9kg
Pickup Or Delivery
Stock: Enquire Online
---
Available only from our Yatala branch.
---
Description
Powered by Husqvarna's powerful BLi backpack battery, the handheld 530iBX blower is low in weight but big on all-weather performance (IPX4). Full of smart features including an intuitive keypad, optimised ergonomics, improved cruise control and boost mode, all designed to maximise uptime and productivity.
Battery voltage – 36 V
Battery type – Li-Ion
Weight without battery – 2.9 kg
Air speed, boost mode – 56.2 m/s
Features
Li-ion power
The Li-ion battery provides long lasting power and top class performance.
Advanced motor fan design
Best performance in pro battery class due to the advanced electric motor fan design.
Cruise control
Blowing speed can be set at optionally rpm for optimum handling.
Boost effect
Maximized blowing speed during limited time through easy accessible boost mode.
Ergonomic handle
Ergonomically shaped handle for greater comfort and easy access to the controls.
Lightweight design
Low total weight through less components and lightweight electric motor in comparison with petrol machines.
Weatherproof (IPX4)
This battery-powered Husqvarna machine fulfils the IPX4 classification for rain resistance. This makes it a long-lasting and reliable tool that can be used all year round in all weather conditions.
Excellent ergonomics
Excellent ergonomics through its exceptional product balance, comfortable handle grip and intuitive keypad.
Low noise levels
Low noise levels enable longer working hours and the possibility to work in noise sensitive and restricted areas.
Brushless motor
High torque to weight ratio for increased efficiency, increased reliability, reduced noise and longer product-life.
Comfortable working position
Working with harness and eyelet equipped machine gives a comfortable working position.
In line outlet
The fan housing is designed so that the air stream is in line with the handle. This makes the machine very easy to manoeuvre.
Low maintenance
No refilling of fuel, less parts to serve and an electronically controlled drive system means less downtime and low operation costs.
One battery fits all
The battery pack is designed for demanding, long lasting professional use. It is designed for the products in our Battery Series line-up, which allows you to quickly switch the same battery between different product applications and keep working.
Gear up for nonstop operation
Our battery accessories allow you to carry on and get the job done as quickly and efficiently as possible.
Specifications
Please download the Specifications – Blowers PDF for detailed technical information on this model.
Manufacturer's Website
Husqvarna – www.husqvarna.com
---
Have a question about this product? Call or visit our stores or enquire online.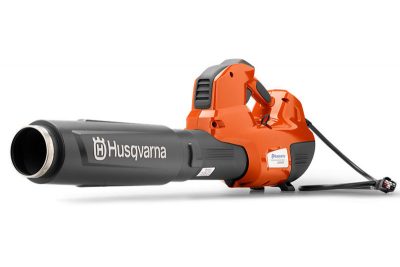 VIDEO