Deutz-Fahr
Agrofarm G Series
The Ideal General Purpose Farm Tractor
3 Models | 96hp (71kW) - 110hp (82kw) | Cab or ROPS
Pickup Or Delivery
Stock: Enquire Online
---
Description
Deluxe Cabin Tractor
The Agrofarm G 100DT – 115GS – 115GS ROPS Series is designed to be a deluxe cab tractor with multi-purpose functionality.
A high capacity hydraulic pump provides sufficient flow for all operations, including front end loader work, plus standard features that will make a difference to your operation, such as 4 wheel independent disc brakes, front and rear diff lock, tight turning circle and superior comfort and safety.
The Agrofarm G 115 GS ROPS Series is designed to be a deluxe ROPS tractor with multi-purpose functionality. It is ideal for front end loader work with a dedicated Powershuttle gearbox.
The comfortable workspace stands out with its cabin-like feel, likewise the flat, step through platform and genuine all-weather canopy .
A high capacity hydraulic pump provides sufficient flow for all operations, including front end loader work plus standard features that make a real difference, such as 4 wheel independent disc brakes, front and rear diff lock, creep gear and an exceptional turning circle.
The Agrofarm G 115 GS ROPS Series is the best all-rounder.
Features
Fuel Efficient Engine
The Agrofarm 100 DT uses 4 cylinder turbocharged mechanically controlled engine developing 96 hp, while the bigger sibling Agrofarm 115GS uses a 4 cylinder turbocharged intercooled electronically controlled engine developing 110 hp. Both engines use Bosch direct injection, making them extremely fuel efficient.
Engine Speed Programming
The engine speed programming function or cruise control is a standard feature on the Agrofarm 115 GS as the engine is ellectronically controlled. This system allows the operator to set and retrieve an engine rpm with a touch of a button. This feature also aids fuel efficiency as the electronic governor is always monitoring load and delivering the right amount of fuel to the engine.
The engine powering the Agrofarm G 115 GS ROPS tractor is a Deutz-Fahr SDF 1000 Series 4 cylinder turbocharged engine. Delivering 96hp and impressive torque of 342Nm, the Agrofarm G 115 GS ROPS tractor has plenty of grunt to get the job done every time. High pressure direct injection is fitted as standard, ensuring the right amount of fuel is getting delivered to each cylinder.
Keeping it Simple
The Agrofarm G Series was brought to Australia to have a tractor that's simple in design, has the desired creature comforts and is not overloaded with bells and whistles unnecessary for this hp sector. Representing exceptional value for money, the Agrofarm G Series is a normal size tractor and weighs over 4 tonne, which is hard to find in this class as most tractors have shrunk in size.
DT Synchro Shuttle
The Agrofarm 100 DT is fitted with a synchro shuttle. This is a mechanically controlled shuttle where the lever is located on the left hand side of the operator's seat. Directional changes are made by simply depressing clutch and moving lever. All gears are synchronised, thereby eliminating grating of gears. The 100 DT gearbox has 20 forward and reverse gears, including a creep range and 40 km/h road speed.
Wet Clutch Shuttle
The Agrofarm 115 GS is fitted with a wet clutch power shuttle. The shuttle lever is located on the left hand side of the steering column and directional changes are made with a simple movement of the lever. There is also a black scroll wheel fitted in the lever allowing the adjustment of the shuttle modulation to suit the task at hand. This tractor is also fitted with a two speed powershift and comfort clutch.
The Agrofarm G 115 GS ROPS is fitted with a dedicated multi wet clutch forward/reverse shuttle. This ensures smooth directional changes by moving the shuttle lever located on the left hand side of the steering column. The Powershuttle unit uses six drive plates; these are oil immersed to provide maximum durability.
Wide Range of Gear Choices
The Agrofarm G 115 GS ROPS gearbox provides operators with great flexibility when it comes to selecting the right speed for the conditions and task at hand. Fitted with a 40/40 transmission, you can operate the tractor at speeds between 400m/h up to 40 km/h. The gearbox is made up of 5 synchronised gears fitted with a comfort clutch, 2 speed powershift and 4 ranges.
ISO Mounted Platform
With the Agrofarm G 115 GS ROPS the operating area is mounted on a dedicated ISO suspended platform, just like a cabin tractor. This gives increased comfort and also ensures nothing enters the driver's area (such as debris from slashers) as the front and the rear are protected. Fitted with a two pillar ROPS frame, sun canopy and side mounted exhaust, it has the feel of a cabin tractor in a ROPS format.
Deluxe Air Con Cabin
For Australia's harsh conditions an air conditioning system is mandatory and the Agrofarm G Series meets that standard. The Agrofarm G Series is equipped with a four pillar cabin, enabling great access, and once settled on the air seat all controls are laid out in a logical and ergonomic position. Multi-function digital dash, push button PTO and MP3 Bluetooth radio are all standard.
4 Wheel Wet Disc Brakes
Most tractors are designed with either rear wheel braking or 4 wheel braking. The Deutz-Fahr is different, as all 4 wheels are braked independently with multiple wet clutch discs. This system gives superb stopping power and allows the tractor to come to a complete stop by pressing the brake pedal all the way to the floor. Having this feature as standard makes the Agrofarm G Series tractors very safe, especially in hilly terrain.
Tight Turning Circle
The Agrofarm G Series is fitted with a high capacity front axle at 10 km/h is 4,500kg allowing the operator to lift heavy loads without damaging the tractor. A plus, the Agrofarm G Series has a fantastic turning circle, even with the large 420/70R24 front wheels fitted. Contact your Deutz-Fahr rep and take one for a drive and test out the turning capabilities; you will not be disappointed.
Front and Rear Diff Lock
The Agrofarm G ROPS Series Tractor has an electro-hydraulic push button diff lock is fitted to this model. When the button is engaged it not only locks the rear diff but also the front diff, thereby avoiding the tractor performing as a 3 wheel drive tractor if it just had a limited slip diff fitted. The feature puts more power and traction to the ground.
Front End Loader
The majority of tractors in this horsepower range are fitted with a front end loader. This particular loader was designed specifically to fit the Agrofarm G Series, with a focus on size, strength and manoeuvrability in mind. Everything is standard, such as level lift, joystick control, Euro quick hitch, soft ride, third function and a 2.1mt GP bucket. Other options, such as a hayfork, are entirely up to you.
4 Speed PTO
The Agrofarm G ROPS Series Tractor has a 4 speed PTO sounds excessive but when explained it makes perfect sense. The 4 speed PTO is made up to 540/540 economy / 1000 and 1000 economy speed gears. The economy range enables the use of PTO driven implements at lower engine revs, thereby reducing noise and lowering fuel consumption.
High Capacity Hydraulics
The Agrofarm G Series is fitted with a dual gear pump which performs two functions. The first pump is a dedicated 44 L/min steering pump which guarantees power steering is continuously available with high loads on the front axle. The second is a dedicated 56 L/min hydraulic pump directing its flow to the rear linkage and auxiliary remotes.
Operators Station – ROPS
The Agrofarm G ROPS Series Tractor is like sitting in the cab version without glass. Fitted with ergonomic controls that are weatherproof, with a flat platform with rubber mat and a Genuine Sun Canopy to protect you from the harsh Australian Sun, the Agrofarm G ROPS series tractor is very comfortable to drive.
Operators Station – Cab
Today's farmers can rely on Deutz Fahr to give them a comfortable workplace in every tractor class. The new Agrofarm G Series boasts a newly designed cabin and interior design which gives the operator ergonomic operation – suitably designed in friendly colours and high-quality materials. The cabin offers an exemplary workplace with safe cab access with a large door opening angle, anti-slip, solid steps, excellent freedom of movement and clear view of all important operating and control elements. Additional comfort comes with air-sprung driver's seat for relaxed and concentrated work. This ergonomic driver's workplace includes the softly padded driving wheel, located within easy reach comes with adjustable tilt and reach; it can be optimally adjusted to the height of any driver. All Agrofarm tractors are fitted with a high output air conditioning system to suit the harsh Australian climate.
Models
100 DT – 96hp, Dry Clutch, Cab
115 GS – 110hp, Wet Clutch, Cab
115 GS – 110hp, Wet Clutch, ROPS
Specifications
Please download the Brochure and Specifications for more information.
Manufacturer's Website

Deutz Fahr – www.deutztractors.com.au
---
Have a question about this product? Call or visit our stores or enquire online.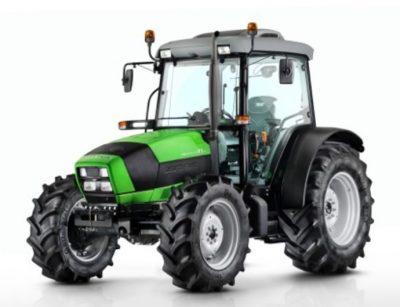 VIDEO
DOWNLOADS
---
---
---