Popular And Efficient All-Purpose Tractor
4 Models | 62hp (46kW) - 95hp (71kw) | Cab or ROPS
Pickup Or Delivery
Stock: Enquire Online
---
Description
The Deutz-Fahr 4E Series tractors ROPS or cabin version, give you plenty of versatility to meet the demands of day to day farming. Four models are available from 62 to 95hp, with a choice of either a ROPS or cabin version. All models are 4WD.
All 4E series tractors are equipped with a forward/reverse shuttle synchronised transmission – which is a must when doing loader work, as you can move quickly from forward and reverse gears. Tractor speeds range from a low 240m/hr to 40km/h, with nine working gears between 5-20km/h. All 4E Series tractors are fitted with four-wheel wet disc brakes as standard, along with the EasyLift push button three point linkage system and a three speed PTO (540/750/ground speed).
Features
Engine
Deutz Fahr 4E Series tractors are powered by a 62hp 3 cylinder turbocharged engine (4065E) or an 80, 85, or 95hp 4 cylinder turbocharged intercooled engine (4080.4E, 4090.4E & 4100.4E). HRT and exhaust gas recirculation systems ensure compliance with Stage 3A standards. These tractors are an ideal combination of sturdy construction and simplicity. The 4080.4E, 4090.4E and 4100.4E models also feature an electronic engine speed programming function (Cruise Control) which automatically determines the exact quantity of fuel needed in relation to power demand and load in real time, to optimise fuel consumption.
Hydraulics
A hydraulic oil flow rate of 42L/min is available for the 3 sets of rear distributors (6 outlets), whilst a separate 17L/min hydraulic pump feeding the power steering circuit gives you total steering control when using a front end loader. The 4E series is uses the EasyLift three point linkage system, which combines the traditional position and draft levers with an electronically controlled up/down button for raising and lowering the three point linkage. The hydraulic lift has a maximum load capacity of up to 3490 Kg (with supplementary external rams).
Transmission
The 4E Series tractors are equipped with a transmission offering the ideal ratio for every task. The 30+15 gearbox configuration consists of a synchronised 5 speed gearbox with 3 work ranges incorporating a forward/reverse shuttle with mechanical splitter. A top speed of 40km/h makes road transport tasks quick and simple.
Cabin
When you sit in the Cabin of the 4E series you notice that Deutz Fahr has designed it for comfort and ergonomics. The adjustable steering wheel tilts and extends. All 4E Series Cabin tractors a standard with climate-controlled air conditioning, that delivers high capacity cooling to suit our Australian conditions.
ROPS
The 4E ROPS series tractor is fitted with a two-post foldable ROPS frame and a sun canopy.
Safety – Four Wheel Wet Disc Brakes
All 4E Series tractors are fitted with four-wheel wet disc brakes as standard. This systems works with wet disc brakes fitted not only on the rear axle, but the front axle, resulting in all four individual wheels having braking power. With braking power distributed through all four wheels you have a very safe and stable tractor.
Front End Loader
Quick detach level lift German built loader, with Euro quick change implement hitch. Joystick control with cables. Third function enabling hydraulic flow at front – i.e. to fit 4in1 bucket. High lift capacity due to heavy duty front axle design on tractor.
Models
4065E – 62hp, 3 cylinder, Cabin
4080.4E – 80hp, 4 cylinder, Cabin
4090.4E – 85hp, 4 cylinder, ROPS
4100.4E – 95hp, 4 cylinder, Cabin
Specifications
Please download the Brochure and Specifications for more information.
Manufacturer's Website

Deutz Fahr – www.deutztractors.com.au
---
Have a question about this product? Call or visit our stores or enquire online.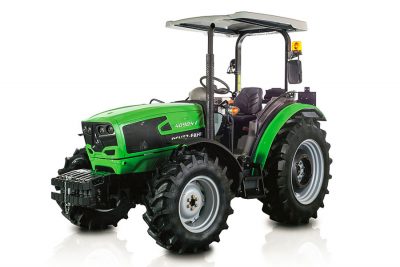 VIDEO
DOWNLOADS
---
---
---