Cub Cadet
Pro Z 100 Series 148S
Engineered For Professional Landscapers
Fab Deck | ROPS | 25hp | 48" (122cm) Cutting Width
Pickup Or Delivery
Stock: Enquire Online
---
RRP $15,099
Our Price $14,899 –
Save $200!
---
Description
All pro. No con. The strongest zero-turn riders in their class don't come along fast or easy. We dedicated over 40,000 hours of engineering, design and testing to perfect the PRO Z 100 series. With direct feedback from landscapers across the country, we didn't just remake the zero-turn, we redefined the category. All to enable you to go above and beyond with the best zero-turn rider for the professional.
Features
Key Features
Professional-grade 25hp Kohler Confidant V-Twin OHV EFI EZT-735 engine gives you power for difficult jobs and offers up to 25% in fuel savings of an equivalent carburettor
122cm (48″) side discharge, fabricated deck ideal for larger yards up to 3 acres. The heavy-duty fabricated deck offers a much stronger, more durable deck
Synchro-Steer technology with steering wheel gives four-wheel steering that eliminates turf damage & gives you unmatched hillside stability of up to 20° slopes
Dual 13 litre fuel tanks (26 litres in total) keeps the machine going for longer when mowing larger areas
Commercial-grade dual HydroGear ZT3400 transmissions with charge pumps work at the same time to give you more power, stability and manoeuvrability
High back seat & arm rests with seat dial suspension, seat belt & 15cm (6″) of seat travel for the ultimate in all day comfort
Incredible Manoeuvrability And Confidence
The first-of-its kind drive system of four-wheel steering with steering wheel control gives professionals a higher level of stability, precision and ease-of-use on any terrain. And by virtually eliminating turf damage, the PRO Z 100 S Series enhances your end results.
The Power Of Kohler® Commercial-Grade Engines
The high-performance Kohler engine means greater torque, and the heavy-duty air filtration system ensures that it can consistently run at full throttle and extends engine life. That means you get incredible results at an incredible pace, year after year.
Unsurpassed Results Of The Cub Cadet Signature Cut™
The PRO Z 100 S Series features a sloped-nose, triple-blade floating fabricated deck. The 10-gauge reinforced leading edge, trim-side discharge opening and consistent blade tip speed evenly disperse grass clippings for pristine, professional-grade results.
Accessories & Attachments
Mulching Kit (optional)
Power Assist Triple Bagger Catcher (optional)
Bagger Weight Kit (optional)
LED Headlight Kit (optional)
Specifications
Please download the Cub Cadet catalogue for full model specs.
Warranty
Fabricated deck shell – 5 year domestic warranty. Unit – 3 year unit domestic warranty. 2 year unit commercial warranty. Engine – 3 year engine domestic warranty. 3 year engine commercial warranty.
---
Manufacturer's Website
Cub Cadet – www.cubcadet.com.au
---
Have a question about this product? Call or visit our stores or enquire online.
Sale!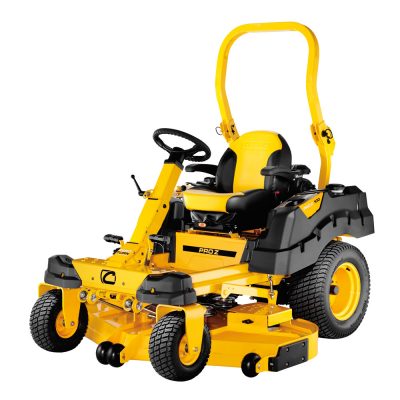 VIDEO
DOWNLOADS
---
---