For The Home Owner Who Demands Quality
Fab Deck | 18hp or 24hp | 36" or 61" Cut Width
Pickup Or Delivery
Stock: Enquire Online
---
Description
A Residential Rider That Has It All The all-new Liberty Z® is the first Scag mower designed exclusively for residential use. Every bit a Scag, this machine will make your lawn the envy of the neighborhood. We took no shortcuts in designing this reliable, high-performing machine, including many of the same features you'll find in our commercial models. The new Liberty Z features a robust, tubular steel frame, powerful motor and innovative deck to provide an outstanding quality-of-cut, easy operation and low maintenance in a budget-friendly package.
Features
Low-maintenance mower design reduces grease points for owner convenience.
Fully fabricated and welded 48″ or 52″ cutter deck with anti-scalp rollers provides a beautiful quality-of-cut.
This is the same proven deck design found on the Freedom Z models.
Ground speeds up to 11.27km/h (7mph) for high productivity.
Hydro-Gear ZT2800 hydro transaxles (2 independent units with charge pumps and all-metal gears) deliver smooth drive power and feature spin-on oil filters for easy maintenance.
Extra-low center of gravity for maximum stability.
Large 11″ front caster tires and 20″ drive tires for solid traction and a smooth ride.
Sealed aluminum cutter deck spindles with ball bearings deliver maintenance-free, high-performance operation; W' thick mounting flange for incredible strength.
MARBAIN® cutter blades stay sharper, longer.
Self-adjusting belt systems keep belts in constant, proper alignment for long life.
Easy-to-release dump valves on transaxles allow the mower to be moved without the engine running.
Easy access to the engine oil drain and filters for quick and simple maintenance.
Powder coat paint for a high-gloss finish and increased durability.
Full-featured instrument panel with all controls within convenient reach of the operator.
Digital hour meter features pre-programmed maintenance reminders to help you keep your mower running great.
Large-diameter, padded, adjustable steering levers for ergonomic operation.
Highly flexible discharge chute will not dent and is easy on the landscape.
A variety of accessories are available to meet your specific needs, including Grass Collection Systems, Mulch Systems, a Halogen Light Kit, Armrests, Trailer Hitch, and Deck Transport Latch.
Wide, spacious foot plate with extruded traction patter for safe traction while getting on and off the mower.
Cushioned, contoured and bolstered seat delivers a high level of comfort.
5 Year / 750 Hour Non-Commercial Mower Warranty. See the Scag Limited Warranty Statement for details.
Scag Mowers – Made in the USA
Who are Scag? If you are in the market for a commercial mower, you have probably discovered that there are countless choices available. So… what makes Scag 'Simply the Best'? Since 1983, Scag has been producing heavy-duty commercial mowers. We listen to our customers, and constantly make the changes needed to meet their needs. This constant product evolution has enabled us to retain our title as the premiere commercial mower line in the industry. This quality is evident in the construction and design of every mower we build. It's hard to find a light gauge piece of steel on our mowers. You can find less expensive mowers, but you won't find a better one.
Testimonial
"Love my new Scag Liberty Z. I find myself mowing just to be in this BEAST of a machine. I have had [other brands] prior to purchasing my Scag. I wish I would have known of Scag before. I recently let my neighbor use my mower to compare against his. His reply was, 'I'm going to put mine up for sale and buy a Scag'. He was sold after the first cut. When I buy something, performance, overall strength and cost are important factors. Scag has outdone themselves with the Liberty Z." Chuck B., Williamsburg, VA, USA
Models
36″ Cutter Deck, Kawasaki FR Series 18hp – SZL36H-18FR 42″ Cutter Deck, Kohler Pro 7000 Series 22hp – SZL42H-22KT 48″ Cutter Deck, Kawasaki FR Series 21hp – SZL48-21FR 52″ Cutter Deck, Electric Vehicle – SZL52H-EV 52″ Cutter Deck, Kawasaki FR Series 23hp – SZL52H-23FR 61″ Cutter Deck, Kawasaki FR Series 24hp – SZL61H-24FR
Specifications
Please download the specs *.pdf to see specifications for all of the models in the range
Warranty
The Best Warranties You'll Probably Never Need
5 Year / 750 Hour Liberty Z Non-Commercial Warranty. All new Scag Liberty Z mowers are covered by a 5-year or 750 hour warranty (whichever comes first) for non-commercial use. See the Scag Limited Warranty Statement for more details. This warranty coves manufacturing defects for up to five years, including parts and labor. This limited warranty is for non-commercial owners only. No commercial warranty coverage for the Liberty Z.
---
Manufacturer's Website

Scag Australia – www.scagaustralia.com
Freight charges applicable
---
Have a question about this product? Call or visit our stores or enquire online.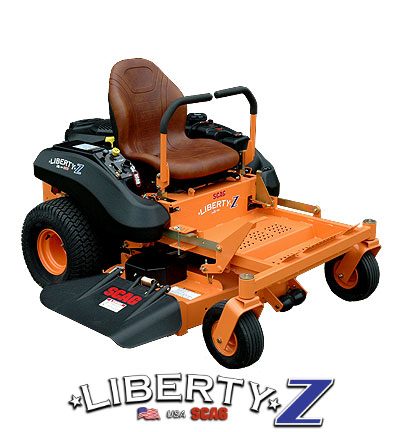 VIDEO
DOWNLOADS
---
---
---
---