Large Version For Bigger Tractors - Front/Rear Mount
5 Models | 1800–2800mm (71–110") | Up To 130hp
Pickup Or Delivery
Stock: Enquire Online
---
Description
Muthing mulchers are a premium range of flail mowers, designed and engineered in Germany. The Muthing Mulching System provides many benefits for groundcare management, including weed control, pest control, input cost reductions (fertilisers, pesticides and herbicides) and improvement in soil structure and fertility.
Muthing mulchers are not only better designed, but also provide a safer working environment by reducing the risk of thrown objects. Muthing mulchers up to a 3.2m width have undergone Independent Thrown Object Certification and comply with Thrown Object Testing ISO/WD 17101-2. This ensures better public safety when operating in public spaces or roadside – a crucial consideration for councils and their suppliers.
For full specifications and a better look at the MU-L Vario Range, please download the brochure.
Features
Five Reasons To Own A Muthing
German engineering and quality at its best – manufactured in Europe.
No windrows – finely mulched and de-fibered material is spread evenly behind roller.
Spiral Rotor with double forged 'M Hammer' Flails – the ultimate in reliability and longevity.
Patented removable and segmented 'Shark Fin' shredding bars for a high quality shred and reduction in maintenance costs.
Designed to be safer for vehicle traffic and passers by – Muthing mulchers have Thrown Object Certification.
MU-L Vario Standard Equipment
Manufactured from High Quality QSt/E Steel with multi position Headstock
Cat. I + II for Front or Rear mounting with mechanical side shift; MUL 180 – 280: 56 cm (as shown)
Gearbox with integrated over run clutch and through drive for 540 / 1000 rpm
Belt protection with tension measuring slot
High tempered "M" Hammer flails to ensure clean cut and maximum shredding using less power
Spiral Rotor with specially formed flail lugs to protect against damage from obstacles and internal bearings protecting against dirt, wear and tear
"Starinth" Roller with internal bearings and well rounded edges to preserve the soil and turf and to carry the flail, adjustable to different heights; Wearing skids, High tempered spring steel one way protection flaps in front
Optimised distance between the outer rotor circle and the roller guarantees perfect contour following and an even quality of cut
Purposely designed hood in conjunction with high rotor and cutting speeds and removable shredding bar spreads the shredded material evenly behind the roller giving an excellent Mulching and Patented removable shredding bar – System: "Shark Fin"
PTO shaft and Guarding to ISO Standards
Optional Upgrades & Attachments
Shock absorbing linkage springs (recommended for Front Mounting)
Hydraulic Weight Transfer MU-SOFA® (recommended for Front Mounting)
Hydraulic side shift (1 double acting spool valve required) MUL 180 – 280 : 56 cm lifting range
Height adjustable rubber wheels, 360º swivel with adjustable width for rear mounting (replacing the roller or in addition to the roller)
Warning signs and lights
Hood Wear plate
Additional Carbide wearing skids, removable
Second patented removable shredding bar – System: "Shark Fin"
Alternative flails and rotor systems (3 back to back Flails, M Shackle Flails)
Working hours meter with electronic sensor
Models
MU-L 180 – 1800mm working width, 16 flails
MU-L 200 – 2000mm working width, 16 flails
MU-L 220 – 2200mm working width, 18 flails
MU-L 250 – 2500mm working width, 22 flails
MU-L 280 – 2800mm working width, 24 flails
---
Distributor's Website
Southern Cross Ag Machinery – www.sxm.com.au
---
Have a question about this product? Call or visit our stores or enquire online.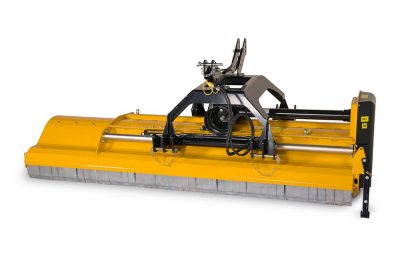 VIDEO
DOWNLOADS
---
---