Kubota's Newly Updated Precision Farming Flagship
12 Models | 128hp (95kW) - 168hp (125kW) | Cab
Pickup Or Delivery
Stock: Enquire Online
---
Available only from our Murwillumbah branch.
Description
The M7-2 Series is Kubota's flagship – the cleanest, most advanced tractor we've ever built. The M7-2 range now offers 3 models, each with four different grades (Standard/Deluxe/Premium/Premium KVT), to best fit your operation. Redesigned for more power and performance, the new Kubota M7-2 still features Kubota's 128–168hp Tier 4 engine, plus proven and versatile new transmissions in all models.
Specifically designed for the farming professional who wants a versatile and hard-working tractor, the M7-2 is powered by a next-generation 6.1 litre, four-cylinder diesel engine, incorporating Kubota's clean-air technology and industry-leading constant power and torque. Kubota's vision for a tractor that makes farming more efficient while working in harmony with the earth is now a reality. It's perfecting this delicate balance that makes the M7-2 the future of farming.
Features
Improved Engine Performance
Kubota has lowered the rated engine speed from 2200rpm to 2100rpm and lowered the maximum output speed from 2200rpm to 1900rpm. The result is improved performance and output in the engine speed range actually used for PTO and towing work. The lower engine speed also results in better fuel economy and reduced engine noise.
30 Speed Semi-Powershift
A new semi-powershift transmission provides an even greater range of forward gears—30 in total—letting you find the right gear for each job for maximum productivity. The number of main gears has been increased from 4 to 6 within working ranges of transmission. An auto-shifting function automatically evaluates the engine load, advances to the appropriate range gear, and adjusts the engine output accordingly, resulting in improved acceleration performance under light loads.
KVT Transmission
Kubota's KVT transmission is widely praised for its performance and efficiency. The new KVT transmission takes performance and efficiency to the next level, offering even better shuttle response to let you quickly find the ideal speed for the job at hand, including loader work. This transmission is also stronger, with a tractor permissible weight of 11.5t, allowing you to use larger implements and improving reliability.
K-Monitors
With the introduction of new 7″ LCD monitors, now you can choose between a 7″ or 12″ K monitors to fit your needs. The new 7inch monitor features is touch screen, and features soft button navigation and is ISO-BUS connector-compatible.
Comfortable Four Post Suspend Cab
Kubota knows how important comfort is when working long days in the field. Operators of the M7-2 series will enjoy a spacious four post suspended cab with virtually unobstructed views. To further increase operator comfort, decibel levels have been reduced and our new deluxe seat with more cushioning and armrest have a wider range of adjustments and has been redesigned with your comfort in mind.
Hydraulic flow control adjustment
You no longer need to leave the cab to adjust the hydraulic flow rate. The flow rate adjustment dial is now conveniently located within easy reach from inside the cab, saving you time—and improving productivity—when setting up the tractor for various types of work.
A/C Performance
The M7-2 Series' new pressurised cab features a high performance heating, ventilation and air conditioning system (HVAC) with 25% greater air flow that will quickly heat or cool the cabin and maintain desired temperature.
Front End Loader
Kubota is committed to improving the ease and efficiency of front loader operations. Kubota's LM2605 advanced loader systems features Kubota Z-Bar linkage mechanical self-leveling, a single-lever hydraulic valve quick coupler, quick attachment and detachment, Kubota Shockless Ride (KSR), a third function valve, and a Euro quick coupler.
New Deluxe Grade
Kubota has taken the simplicity of operation of our Standard Grade with select specifications from our Premium Grade and designed the all new M7-2 Deluxe. Now producers can have a tractor which is easy to operate with less electronics, and has features such as a Closed Center Load Sensing (CCLS) hydraulic system with 29GPM flow to accomplish the most demanding jobs.
Models
M7132 – 128hp, available in Standard / Deluxe / Premium / Premium KVT grades
M7152 – 148hp, available in Standard / Deluxe / Premium / Premium KVT grades
M7172 – 168hp, available in Standard / Deluxe / Premium / Premium KVT grades
Specifications
Please download the Kubota M7-2 Series brochure for more information.
---
Manufacturer's Website
Kubota – www.kubota.com.au
---
Have a question about this product? Call or visit our stores or enquire online.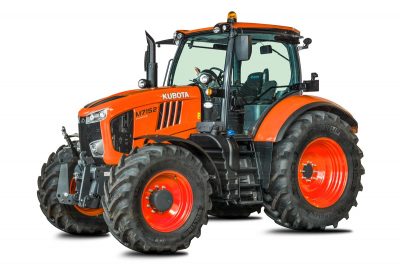 VIDEO
DOWNLOADS
---
---