Professional Saws - Powerful & Easy To Manoeuvre
Petrol | 16" Bar | 3.0kw | 5.3kg
Pickup Or Delivery
Stock: Enquire Online
---
Available only from our Yatala branch.
---
Description
Powerful, durable and easy to manoeuvre, 50cc chainsaw with excellent performance and cutting capacity. Suitable for felling, limbing and bucking small and mid-sized trees as well as for challenging tree care. The slimmed-down design and host of innovative features make for efficient, reliable and comfortable operation.
Bar length (inch) – 16″
Cylinder displacement – 50.1 см³
Power output – 3.0 kW
Weight (excl. cutting equipment) – 5.3 kg
Features
Excellent cooling capacity for a longer engine life
Our new cooling system is optimised in every detail to give you a reliable chainsaw for any situation.
Felling sight to last a lifetime
Perfect sight is critical when felling – so we made one that will outlast the chainsaw itself.
Retained bar nuts
The retaining function prevents losing the bar nuts.
Two mass principle
Effectively minimising vibrations by isolating the engine from the handles reducing operator fatigue.
Slimmed-down design
Low, slender saw body makes the chainsaw easy and convenient to handle in any situation.
Air Injection
Extends the interval between filter cleaning, improving efficiency and increases engine life.
Flip up tank caps
Easy to open and secure firmly, even when wearing thick winter gloves.
Quick-release air filter
Facilitates cleaning and replacement of the air filter.
Magnesium crankcase
Sturdily built crankcase withstands high rpms and tough professional use, ensuring a long service life.
Retained starter screws
The retaining function prevents loosing the screws holding the starter.
Snap-lock cylinder cover
Snap-lock cylinder cover saves time when changing spark plugs and cleaning.
AutoTune
AutoTune gives optimum engine performance throughout automatic engine settings. No time spent on carburettor adjustments. It compensates for different fuels, altitude, humidity, temperature and clogged air filter.
X-Torq®
Delivers lower fuel consumption and reduced exhaust emission levels in accordance with the world´s most stringent environmental regulations.
Visible fuel level
Transparent fuel indicator makes it easy to check fuel level.
Three-piece crankshaft
Forged three-piece crankshaft giving maximum durability for the toughest applications.
Quick chain adjustments
Side-mounted chain tensioner is conveniently located to allow quick and easy chain adjustment.
Adjustable oil pump
Adjustable oil pump allows you to adjust chain lubrication to suit all working applications.
5 Year Warranty
Extend your warranty period from the standard 2 Year Domestic Warranty to a 5 Year Domestic Warranty, with the purchase of a minimum quantity of genuine Husqvarna oil (either 1L, 2L or 4L) with the respective Husqvarna finished product, at the point of purchase. See the Husqvarna Warranty Page for full details.
Note – this warranty extension applies to domestic use only; commercial warranties differ. Visit the Husqvarna Warranty Page or ask in-store for details.
Specifications
Please download the Specifications – Chainsaws PDF for detailed technical information on this model.
Manufacturer's Website
Husqvarna – www.husqvarna.com
---
Have a question about this product? Call or visit our stores or enquire online.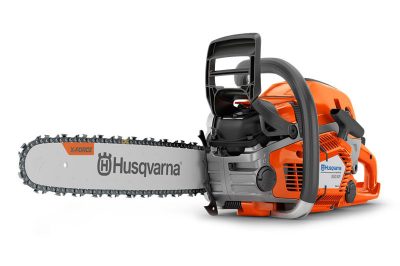 VIDEO
DOWNLOADS
---
---