Husqvarna
540iXP (Skin Only)
New! Professional Saws - No Performance Compromise
Electric | 14" Bar | 36V | 2.9kg
Pickup Or Delivery
Stock: Enquire Online
---
Available only from our Yatala branch.
---
Description
Husqvarna 540i XP is a powerful and efficient battery-powered chainsaw, equivalent to a 40cc pro petrol saw when fitted with a BLi300 battery. It's ideal for removal of small and mid-sized trees where you need smooth and efficient cuts. Designed for professionally oriented users who want a lightweight, high performance rear-handle chainsaw. Delivers all the benefits of battery power without compromising on cutting performance. The integrated connectivity makes it easy to keep track of usage stats, service history and last known location in the Husqvarna Fleet Services™ app.
Bar length (inch) – 14″
Battery type – Li-Ion
Battery voltage – 36 V
Weight (excl. battery and cutting equipment) – 2.9 kg
Price includes: X-Precision Laminated bar .325" mini PIXEL 1.1mm Small bar mount, Saw chain X-CUT SP21G Semi chisel PIXEL .325″ mini 1.1 mm.
Features
High chain speed
High chain speed for fast, smooth cutting.
Low maintenance
No refilling of fuel, less parts to serve and an electronically controlled drive system means less downtime and low operation costs.
Weatherproof (IPX4)
This battery-powered Husqvarna machine fulfils the IPX4 classification for rain resistance. This makes it a long-lasting and reliable tool that can be used all year round in all weather conditions.
One battery fits all
The battery pack is designed for demanding, long lasting professional use. It is designed for the products in our Battery Series line-up, which allows you to quickly switch the same battery between different product applications and keep working.
savE™
Choose between normal or savE™ mode, depending on conditions, for maximum power or maximum runtime. Either way, you'll always get a perfect result.
Intuitive key pad
The key pad is very easy to operate.
Retained bar nuts
The retaining function prevents losing the bar nuts.
Efficient brushless motor
Our in-house developed, advanced brushless motor is 25 % more efficient than a standard brush motor. This means that the motor provides a high and consistent torque.
Flip-up tank cap
The flip-up tank cap is easy to open.
Inertia chain brake
Effective inertia-activated chain brake
Gear up for nonstop operation
Our battery accessories allow you to carry on and get the job done as quickly and efficiently as possible.
Manufacturer's Website
Husqvarna – www.husqvarna.com
---
Have a question about this product? Call or visit our stores or enquire online.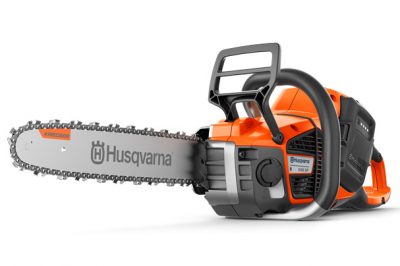 VIDEO