Professional Use - Reliable, Practical, Affordable
Petrol | 0.8kW | 4.2kg
Pickup Or Delivery
Stock: Enquire Online
---
Available only from our Yatala branch.
---
Description
The great value, high-performance Husqvarna 522L petrol powered trimmer is a practical, affordable option for professionals. Reliable and easy to start, operate and maintain thanks to its user-centric design and intuitive controls, including auto-return stop switch, Smart Start® and easy choke/purge access.
The professional garden trimmer features a solid drive shaft, tool-less access to the air filter and T35 Tap-n-Go trimmer head make it a sensible, durable choice for light trimming.
Cylinder displacement – 22.5 см³
Power output – 0.8 kW
Weight (excl. cutting equipment) – 4.2 kg
Features
Stand alone starter
The stand alone starter makes it easy to change starter cord if needed.
Tap 'N Go™
Heavy duty twin line cutting system with Tap 'N Go™ for quick line feed.
Bevel gear
Transmission and bevel gear in proven design together with a sturdy trimmer head for trouble free work.
Commercial grade 2-stage air filter
The commercial grade 2-stage air filter reduces servicing costs and also results in less engine wear.
High torque bevel gear
Bevel gear designed with high torque and the cutting equipment parallell to the ground for best cutting performance
Easy to use trimmer head
Easy to use Tap 'N Go™ dual line trimmer head. Easy to refill.
Hard chromium
Hard chromium plated cylinder bore provides increased durability and extended product life.
X-Torq® engine
The X-Torq® engine design reduces harmful exhaust emissions by up to 75% and increases fuel efficiency by up to 20%.
Intuitive controls
The choke and purge are easy to reach and understand.
Auto return stop switch
Stop switch automatically resets to the ON position for trouble-free starting.
Easy starting
Air purge for very easy starting.
5 Year Warranty
Extend your warranty period from the standard 2 Year Domestic Warranty to a 5 Year Domestic Warranty, with the purchase of a minimum quantity of genuine Husqvarna oil (either 1L, 2L or 4L) with the respective Husqvarna finished product, at the point of purchase. See the Husqvarna Warranty Page for full details.
Note – this warranty extension applies to domestic use only; commercial warranties differ. Visit the Husqvarna Warranty Page or ask in-store for details.
Specifications
Please download the Specifications – Trimmers PDF for detailed technical information on this model.
Manufacturer's Website
Husqvarna – www.husqvarna.com
---
Have a question about this product? Call or visit our stores or enquire online.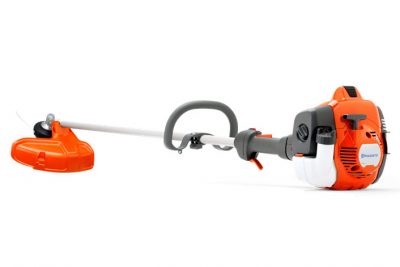 VIDEO
DOWNLOADS
---
---