The Lowest Maintenance Pegasus Ever
2 Models | 4926–6074mm (194–239") | Suits 50hp+
Pickup Or Delivery
Stock: Enquire Online
---
New from Trimax – Now available fully galvanised!
---
Description
After fifteen years in the market, Pegasus has established itself as the benchmark in wide-area mowing for parks, reserves, airports, racetracks, sports fields and turf farms.
Available in 4.9m and 6.1m widths, the S4 is our newest version of the exceptionally low-maintenance trailed rotary mower.
Engineered to be the lowest maintenance Pegasus ever, the number of grease points on the S4 have been reduced by 15%. S4 also features our legendary sealed, maintenance-free spindle and now has an incredible 35% less routine maintenance costs.
Features
3 Year Warranty
We aim to build mowers that last and we back this up by a 3 year warranty which also includes the spindles and gearboxes. Our robust design coupled with our experienced service and support network ensure minimum downtime and more productivity.
Low Maintenance
To ensure optimum efficiency we've reduced the number of grease points by 15% giving you 35% less maintenance costs than the S3. Included on the S4 are SteadFAST Sealed Spindles which completely remove the tedious task of regular greasing.
LazerBladez™
Trimax's famous LazerBladez™ fling-tip blades are fitted as standard on the Pegasus S4, which help achieve a superior cut finish through an optimised blade thickness and air flow, a carefully engineered centre of gravity and unique 'tilt forward' blade system. LazerBladez™ are much more cost efficient than (reel or) solid beams as only the fling-tip portion of the blade is replaced.
Full Width Rollers
Full width rollers on all decks follow the contours of the ground and provide excellent anti-scalp protection. Rollers also allow mowing along the edge of banks or paths and produce a superb striping effect for those wishing to pattern their turf. Safety is enhanced as rollers contain debris in the cutting chamber.
Easy, Accurate Height Adjustment
Clearly displayed cut height indicators allow for simple and easy alteration or resetting of cut heights. You can adjust heights without having to raise and lower the wings.
Product Options
Individual Lift System
The ILS (Individual Lift System) allows independent lift of either side deck for reduced cutting width when operating in confined spaces without leaving the tractor seat. With pre-emptive blade disengagement and proximity sensors, it's the safest system on the market.
Quattro Blade System
This system adds 2 more blades to each spindle (2 flat, 2 upturned) for a finer cut on warm season grasses.
Remote Unlock
The remote unlock option replaces the standard transport lock release rope with an electric actuator. This is operated by a tractor mounted controller.
Roller Scrapers
Trimax Helical scrapers operate with reduced tension but apply constant pressure on the roller to assist with cleaning.
Electric Brakes
Electric brakes will reduce the braking force needed from the tractor. The electric brake option includes an adjustable brake controller with proportional boost for improved performance, and a lockout switch so the brakes can be de-activated while mowing.
Anti-Bounce Skids
Developed to eliminate the 'scalloping' effect when mowing on turf where the ground is not perfectly smooth. Helps to ease the mower over humps between the front and rear rollers.
Galvanised Body
Hot-Dip Galvanising provides added protection against corrosion in coastal environments with high salt concentrations, and applications with high fertiliser usage.
Models
P4 493
P4 610
Specifications
P4 493
Cutting Width – 4926mm (194")
Overall Width – 5082mm (200")
Width (Transport Mode) – 2500mm (98")
Overall Length – 4320mm (170")
Cut Height Range – 10-90mm (3/8″ – 3 1/2″)
No. of Blade Spindles – 9
Approx Weight – 2200kg
Minimum Tractor Size – 50hp
Warranty – 3 Years
P4 610br/> Cutting Width – 6074mm (239")
Overall Width – 6230mm (245")
Width (Transport Mode) – 2500mm (98")
Overall Length – 4320mm (170")
Cut Height Range – 10-90mm (3/8″ – 3 1/2″)
No. of Blade Spindles – 11
Approx Weight – 2400kg
Minimum Tractor Size – 65hp
Warranty – 3 Years
---
Manufacturer's Website

Trimax – www.trimaxmowers.com.au
---
Have a question about this product? Call or visit our stores or enquire online.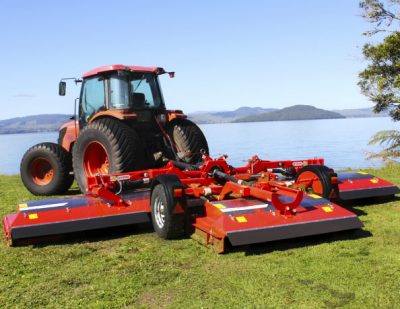 VIDEO
DOWNLOADS
---
---
---