The Choice For Athletic Fields Or High Traffic Areas
72" (1829mm) Aeration Width | Up to 102mm Depth
Pickup Or Delivery
Stock: Enquire Online
---
Description
The Tracaire 72-inch aerator is the only choice for athletic fields and other large, flat, high traffic areas with compaction issues.
The hardened alloy steel tines aerate four inches down into even the most challenging surfaces, allowing deep-rooted grass to prosper in even the harshest conditions. An option of coring or spoon or slicing knives provides versatility, while cast iron tine wheels with sintered bushings add durability and reduce maintenance. Tow the Tracaire aerator with a category "1" 3-point hitch and marvel at its resiliency – not to mention that of the resulting turf.
Features
Key Features
The cast iron aeration wheels have eight tines per wheel standard. Another eight tines can be installed on the wheel doubling the amount of material removed during coring.
Effortlessly connect the Tracaire to a wide variety of tractors with its durable 3-point hitch configuration.
Choice of three varieties of hardened steel tines and two varieties of knives
Tines
515197 – Tine, Coring 3/4 in. (19mm), Back Discharge, Thick Wall (Fitted Standard)
515196 – Tine, Coring 1/2 in. (13mm), Back Discharge, Thick Wall
520404 – Tine, Spoon
Knives
521155 – Deep Slicing Knife
515193 – Shallow Slicing Knife
Models
Tracaire Aerator
Specifications
Please download the Product Specs brochure to see full specifications for this machine.
---
Manufacturer's Website
Ryan – www.Ryanturf.com
---
Have a question about this product? Call or visit our stores or enquire online.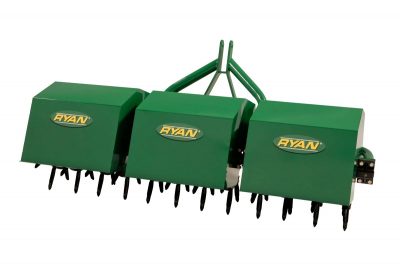 VIDEO
DOWNLOADS
---
---
---