Purpose Built Solution - One Person Load & Unload
For Junior Sod Cutter And Lawnaire IV & V Range
Pickup Or Delivery
Stock: Enquire Online
---
Description
It takes just one person to load, unload and haul the Lawnaire IV, Lawnaire V, or the Jr. Sod Cutter.
The Ryan Tote Trailer is perfect for rental houses or lawn care professionals or golf course professionals who need to transport Ryan equipment. It is the Tote Trailer that gets you to the job site quickly and easily. One person can unload the Ryan equipment, finish the job, and reload the trailer without help.
Features
Key Features
Heavy Duty Hitch fits 2" trailer hitch ball.
Fenders and tail lights with guards for protection.
Specifications
Tires – (2) 16.50 x 4.80-8, 4-ply pneumatic tires on steel rims with tapered roller bearings
Hitch – Heavy-duty stamped steel housing, fits 1 7/8 in. (48 mm) through 2 in. (51 mm) ball; includes safety chain
Drive wheel (2) – 8 in. (203 mm) diameter; knob tread; rubber-vulcanized to cast-iron hubs
Units Transported – Jr. Sod Cutter, and Lawnaire IV, Lawnaire IV EST, Lawnaire V & Lawnaire V EST aerators.
Weight – 61kg
Width – 1422mm
Length – 1829mm
---
Manufacturer's Website
Ryan – www.Ryanturf.com
---
Have a question about this product? Call or visit our stores or enquire online.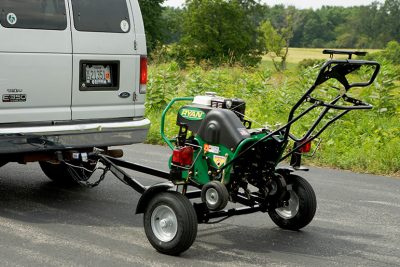 VIDEO
DOWNLOADS
---
---