All The Features Of The IV With A Wider 26.5" Swath
26.5" (673mm) Aeration Width | Up to 70mm Depth
Pickup Or Delivery
Stock: Enquire Online
---
Description
The Lawnaire V aerator offers the same convenient features and durability as the Lawnaire IV aerator. But when you need to aerate a larger area faster, there's no better choice than this coring, drum-type aerator.
With a 26.5-inch swath and quick ground speeds, you can cover up to 3716m²/hr (40,000 sq ft/hr) at 4.83km/h (3.5mph). Covered lift grips and a front bumper guard make tying down for transportation easy, as well as add protection from damage. Removable rear wheels simplify manoeuvring in tight areas and let you pass through gates and down narrow paths with ease. For rental houses that want to offer their customers the foremost lawn equipment, and for lawn care contractors who know that time means money, the Lawnaire V aerator simply can't be beat.
Features
Key Features
Standard 0.75-inch (19mm) diameter hardened alloy steel coring tines keep this durable machine out of the shop and out on the job.
A full water drum provides improved traction and increases penetration depth in harder soils.
Weights are easily and conveniently removable for easier lifting and quicker, less strenuous transportation.
Models
Lawnaire V with Honda GX120 Engine
Specifications
Please download the Product Specs brochure to see full specifications for this machine.
---
Manufacturer's Website
Ryan – www.Ryanturf.com
---
Have a question about this product? Call or visit our stores or enquire online.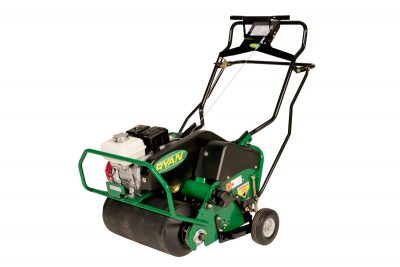 VIDEO
DOWNLOADS
---
---
---