Easy To Use Self Propelled Drum Style Turf Aerator
19" (483mm) Aeration Width | Up to 70mm Depth
Pickup Or Delivery
Stock: Enquire Online
---
Description
Whether you're a rental house, small lawn care contractor or homeowner, the Lawnaire IV aerator has an application to suit your needs.
This drum-style, self-propelled, high-speed precision commercial turf aerator combines performance, durability and ease of use. Commercial grade components like a solid steel axle and hardened alloy steel coring tines ensure years of reliable performance in even the most rigorous environments. User-friendly features like the easy-to-operate, handle-mounted throttle and vibration-reducing grips make operation easy and comfortable. Thirty tines spread over a 19-inch swath offer a productive aeration rate of up to 1737m²/hr (29,000 sq ft/hr) at 4.83km/h (3.5mph). Convenient transportation features such as a fold-down handle and removable weights for easier lifting cap off the long list of efficiency-building features you'll find in this versatile machine.
Features
Key Features
The fold-down handle allows the machine to take up less space in transportation vehicles and rental houses.
Standard 0.75-inch (19mm) diameter hardened alloy steel coring tines keep this durable machine out of the shop and out on the job.
A full water drum provides improved traction and increases penetration depth in harder soils.
Weights are easily and conveniently removable for easier lifting and quicker, less strenuous transportation.
Models
Lawnaire IV with Honda GX120 Engine
Specifications
Please download the Product Specs brochure to see full specifications for this machine.
---
Manufacturer's Website
Ryan – www.Ryanturf.com
---
Have a question about this product? Call or visit our stores or enquire online.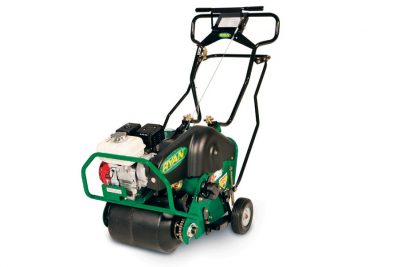 VIDEO
DOWNLOADS
---
---
---