Ryan
Lawnaire 3-Point Hitch Aerator
Fantastic For Oval Renovation | Fits Most Tractors
36" (914mm) or 48" (1219mm) Width | Up to 102mm Depth
Pickup Or Delivery
Stock: Enquire Online
---
Description
For quality aeration done fast on medium-sized grounds like apartment complexes and sports fields, the Lawnaire 3-Point Hitch is ideal.
This popular towable aerator is available in a 36-inch model, or choose a larger 48-inch model for wider, open lawns. The durable coring, tines or spoon or slicing knives penetrate densely compacted soil with ease. The 36-inch model is compatible with any tractor that has a category "0" or "1" 3-point hitch capable of lifting 234kg (515lbs). You can operate the 48-inch model with any tractor that has a category "0" or "1" 3-point hitch and is capable of lifting 324kg (715lbs).
Features
Key Features
Reliable three-point hitch allows simple connection and is compatible with a wide variety of tractor models.
For maximized productivity, independently mounted tine wheels let you make turns while the tines are in the ground.
Cast iron aeration wheels have sintered bushings and lubrication fittings for durability and easy maintenance.
Three varieties of hardened steel tines and two varieties of knives provide years of rugged and dependable service.
Tines
515197 – Tine, Coring 3/4 in. (19mm), Back Discharge, Thick Wall (Fitted Standard)
515196 – Tine, Coring 1/2 in. (13mm), Back Discharge, Thick Wall
520404 – Tine, Spoon
Knives
521155 – Deep Slicing Knife
515193 – Shallow Slicing Knife
Models
Lawnaire 36″ Three-Point Hitch Aerator
Lawnaire 48″ Three-Point Hitch Aerator
Specifications
Please download the Product Specs brochure to see full specifications for this machine.
---
Manufacturer's Website
Ryan – www.Ryanturf.com
---
Have a question about this product? Call or visit our stores or enquire online.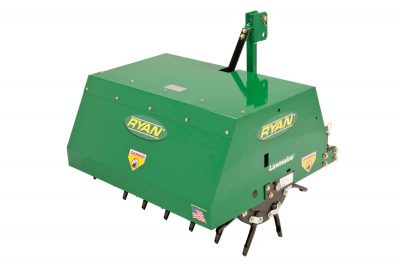 VIDEO
DOWNLOADS
---
---
---