Reciprocating Tines For Vertical Coring Action
28" (711mm) Aeration Width | Up to 64mm Depth
Pickup Or Delivery
Stock: Enquire Online
---
Description
The revolutionary Lawnaire 28 reciprocating self-propelled walk-behind aerator offers the cutting-edge technology and precision needed in the golf course industry, and combines it with the durability and efficiency necessary for commercial lawn maintenance.
With vertical coring action, the reciprocating tines of this walk-behind aerator are able to punch straight in and out without tearing the turf. And with this machine, precision goes hand in hand with efficiency. Its 28-inch aerating swath and productive ground speed aerates up to 2230m²/hr (24,000 sq ft/hr). The durable tines aerate down to 2.5″ (64mm), even in hard soil. The durable construction features a reinforced, heavy-gauge steel frame. As for ease of use and comfort, a front caster wheel gives you near zero-turn capability and an isolated handlebar absorbs vibration, making operation and maneuvering almost effortless.
Watch the video to see the Lawnaire 28's unique vertical coring action for yourself!
Features
Key Features
A unique front caster wheel allows the machine to maneuver with near zero-turn capability.
The rear-drive differential feature makes it easier to turn and maneuver around trees and landscape features.
Reciprocating tines provide vertical coring action, punching straight in and out without tearing the turf, offering hole quality on par with golf course requirements.
Models
Lawnaire 28 with Honda GX200 Engine
Specifications
Please download the Product Specs brochure to see full specifications for this machine.
---
Manufacturer's Website
Ryan – www.Ryanturf.com
---
Have a question about this product? Call or visit our stores or enquire online.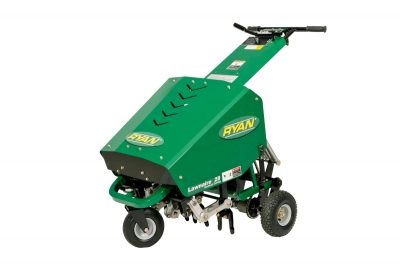 VIDEO
DOWNLOADS
---
---
---