The Gold Standard In Sod Cutting For Over 70 Years
12" (305mm) or 18" (457mm) Cutting Width | 163cc
Pickup Or Delivery
Stock: Enquire Online
---
Description
The Ryan Junior Sod Cutter has been the gold standard in the golf, rental and commercial industries for more than 70 years.
The improved Jr. Sod Cutter sports a host of new features, including reduced hand/arm vibration, cut by a remarkable 75 percent for more comfortable operation. A pneumatic rear castor wheel with lockout allows for cutting around curved landscape features or straight strips with unmatched precision. A true workhorse, the Jr. Sod Cutter packs the speed, convenience and reliability you've come to expect from Ryan.
The Ryan Jr. Sod Cutter features a full range of accessories, including a tote trailer. Two models are available, in either 12″ or 18″ cutting widths.
Features
Key Features
Pneumatic swivelling rear wheel makes it easy to manoeuvre tightly around turns and cut closely along contoured landscape edges.
Rubber isolation mount absorbs much of the machine's vibration before it ever reaches your hands.
Easy depth and blade angle adjustment allow precise cutting in a wide variety of landscape contours and soil conditions.
Open frame design and removable rider pad allows for easy access and maintenance of key components.
The intuitive control panel features a hydraulic pressure gauge with easy-to-read dial for management of down pressure under various soil conditions.
Tine lift switch to raise and lower tines conveniently located near control lever.
JR Sod Cutter Accessories
As if the Ryan Jr. Sod Cutter isn't efficient and versatile enough, a full line of convenient accessories are available to make your job even easier – and more profitable. Each piece of equipment is easy to operate and simple to install. They're the ultimate complement to an already industry-leading machine.
Mole Blade Kit (Wire/Tube Puller)
Easily bury wire or tubing up to 5″ deep with minimal turf disturbance. The wire/tube puller is ideal for landscape lighting, irrigation systems and many other applications. Available with either a 0.75″ (19 mm) or 1.25″ (32mm) diameter kit.
V-Trencher Kit
Install cable and tackle other small to medium-sized trenching jobs with this user-friendly and cost-effective kit. Digs a V-shape trench to 6 in. (152 mm) deep.
Tote Trailer
It takes just one person to load, unload and haul the Lawnaire IV, Lawnaire V, or the Jr. Sod Cutter.
Models
12″ Junior Sod Cutter with Honda GX160 Engine
18″ Junior Sod Cutter with Honda GX160 Engine
Specifications
Please download the Product Specs brochure to see full specifications for this machine.
---
Manufacturer's Website
Ryan – www.Ryanturf.com
---
Have a question about this product? Call or visit our stores or enquire online.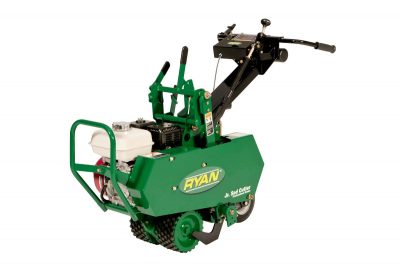 VIDEO
DOWNLOADS
---
---
---