Ryan
Heavy Duty Sod Cutter
Next Level Performance - Ride On Or Walk Behind
16" (305mm) or 18" (457mm) Cutting Width | 389cc
Pickup Or Delivery
Stock: Enquire Online
---
Description
Ride or walk behind the performance and dependability of the Ryan Heavy Duty Sod Cutter.
Large enough to conquer big jobs yet still easily portable, this unit is ideal for sod farms and sports fields. It is capable of cutting and rolling up to three acres of sod a day. No sod cutter has ever been more user-friendly. Adjust blade depth, change blade angles and control the handle-mounted throttle all from the operator's station. A cutting-depth guide helps ensure that every adjustment is accurate. An automatic sod cutoff blade provides precise cutting of the sod strips. The forward metering wheel measures the length of the sod strip and triggers the automatic cutoff blade. Sod strips can be cut in lengths from one to six feet long. Want even more efficiency? The available sulky roller ride on conversion kit allows you to cut and roll at the same time. The only thing you'll be rolling up faster than the sod will be your bankroll.
Two models of the Heavy Duty Sod Cutter are available, in either 16″ or 18″ cutting widths.
Features
Key Features
Durable cutting blade is easily adjustable down to a depth of 2 ½" and can change angles to match soil and blade conditions.
A forward metering wheel helps measure and cut sod accurately.
Automatic sod cutoff provides precise cutting of sod strips from one to six feet long.
Open frame design and removable rider pad allows for easy access and maintenance of key components.
The intuitive control panel features a hydraulic pressure gauge with easy-to-read dial for management of down pressure under various soil conditions.
Tine lift switch to raise and lower tines conveniently located near control lever.
Heavy Duty Sod Cutter Accessories
Like the Jr. Sod Cutter, the Ryan Heavy Duty Sod Cutter offers a complete line of convenient accessories. These durable, efficient add-ons offer the opportunity to get on and off each job even faster. And with maximized precision, the quality of work will exceed your expectations as well as those of your customers.
Sod Hold Down Skids Kit
The Sod Hold Down Kit keeps the sod from buckling and may be necessary in very sandysoil conditions or when the ground is dry.
Sulky Roller (Ride On Conversion)
Give your feet a rest with this attachment and precisely cut sod while you take a seat.
Roll Diverter Kit
Working in conjunction with the Sulky Roller, the Roll Diverter Kit moves the rolled sod pieces out of the way so you don't ride over previously cut sod.
Models
16″ Heavy Duty Sod Cutter with Honda GX390 Engine18″ Heavy Duty Sod Cutter with Honda GX390 Engine
Specifications
Please download the Product Specs brochure to see full specifications for this machine.
---
Manufacturer's Website
Ryan – www.Ryanturf.com
---
Have a question about this product? Call or visit our stores or enquire online.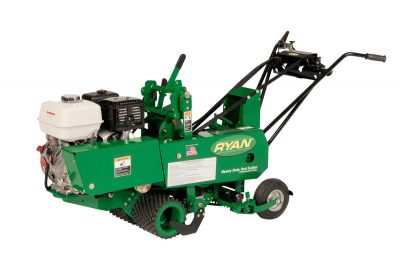 VIDEO
DOWNLOADS
---
---
---