Brings All Areas Under Control - Built With Muthing
Turbo Diesel | 4WD | 126" (3.2m) Mulching Width
Pickup Or Delivery
Stock: Enquire Online
---
Description
The first of its kind – a wide area mulching flail mower, developed by Ransome Jacobsen in collaboration with Muthing.
The HM600 has been built in collaboration with Muthing to deliver a robust, reliable mower with the ability to tackle the toughest jobs, and the finesse to manoeuvre tight spaces while providing a quality after-cut appearance. From a clean, fine, rolled finish across sports pitches to routine cuts, the HM600 leaves an even spread of mulched clippings. It also tackles the irregular cuts, bringing the lesser maintained areas back under control. The HM600 can visit one work site with the versatility to do it all, the productivity to do it fast and the flail technology for superior presentation.
A rugged & reliable 65hp Kubota Turbo Diesel engine powers the 3.2m (126") cut width up steep terrain and through tough conditions. Three heavy duty flail units with striping rear rollers and mulching technology from Muthing ensure a premium after-cut appearance and optimum mulching in a wide variety of conditions. Operate effortlessly from a vibration isolated, ergonomic cockpit with a high specification suspension seat. Use fingertip joysticks to control each unit individually for ultimate versatility. To keep the operator safe and productive, the InCommand control system is monitoring slope operation via TST (Tilt Sensor Technology) and the cutting conditions with Adapticut. Diagnostic read outs are on-board for quick and easy troubleshooting.
Features
Key Features
Rugged & reliable 65.2hp, 4-cyl, liquid-cooled turbo-diesel Kubota engine
Huge 3.2m (126″) cutting width, adjustable with individual-lift decks
Fast 25km/h transport speed
Versatility
Lift and lower individual decks for manoeuvring around obstacles, or run all three at a maximum width of cut to suit your needs
A lightweight, durable design, makes the HM600 ideal for trailer transportation
Transport easily on the road with unrivalled comfort and optimal speed
Tackle the most challenging conditions whilst producing a consistent, first-class finish
Productivity
An impressive 3.2m cut width significantly improves productivity
Cut more grass in one pass than any other rotary mower, whilst achieving a superior finish
Technology
Patented Muthing technology delivers superb mulching capabilities which spread clippings evenly
Heavy duty rollers provide a high-quality, fine turf finish in a range of conditions
HM600
Standard Configuration
Foldable ROPS
Tilt steering wheel with Q Amp steering
4 point tie down
Fully adjustable suspension seat
Maintenance free rear axle
InCommand Control System
Electronic Unit Locks
SureTrac 4WD
Wet Parking Brakes
Tilt Sensor Technology
Optional Cab
Air conditioning and heater
Noise reducing interior
High visibility, heated, front screen
Air suspension, high specification cloth seat
Dual warning beacons
Specifications
Please download the HM600 brochure to see full specifications for this machine.
---
Manufacturer's Website

Ransome Jacobsen – www.jacobsen.com
---
Have a question about this product? Call or visit our stores or enquire online.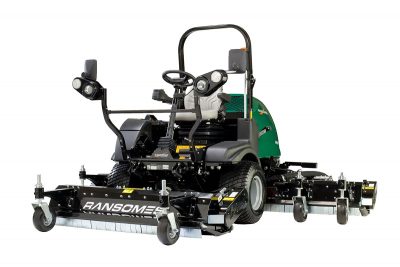 VIDEO
DOWNLOADS
---
---