Massey Ferguson
MF3700 Series
Narrow Tractors For Vineyards, Orchards and Buildings
4 Models | 75hp (55kW) - 85hp (64kW) | Cab or ROPS
Pickup Or Delivery
Stock: Enquire Online
---
Description
The new MF 3700 is designed for ultimate efficiency and low cost of operation using a range of the latest straightforward and dependable technologies.
Efficient drive-lines, new generation Stage 3B four-cylinder engines, low fuel consumption, long service intervals, impressive traction and lifting capacities together with low maintenance costs – the MF 3700 simply makes your farming business more profitable.
The MF3700 Series is available in a range of five different configurations – Vineyard, Special, Fruit, Ground Effect and Wide Fruit.
Features
Engine
The MF 3700 Series is powered by new generation Stage 3B four-cylinder engines from 75 to 105hp, delivering more power and torque to handle more demanding operations and high output implements.
Transmission
There is a choice of four different transmissions to suit the requirements of your particular cropping or husbandry tasks. Specify the simplicity of a mechanical transmission or take advantage of high speed shuttling between forward and reverse speeds, for example when loading materials or produce.
Hydraulics
The MF 3700 Series has significantly more powerful hydraulics than its predecessor, offering improved performance with implements such as loaders, trimmers and pruners; it also features a dedicated auxiliary pump.
Rear linkages have 2.5 and 3 tonnes lift capacity and purchasers can specify from two to six spool valves to meet their needs; the MF 3700 Series also offers a hydraulic trailer brake dual line for safe towing.
Specifications
The MF 3700 Series is available in two specification levels – 'Essential' and 'Efficient'.
Essential offers an entry level package available on both ROPS and cab tractors, and features a mechanical transmission and mechanical linkage. Efficient is available on cab tractors only, and offers a higher specification specialist tractor, with increased hydraulic flow, a unique control joystick and electronic management of the linkage and spool valves.
Operator Environment
You'll find it surprisingly roomy for a specialist tractor, with all controls falling easily to hand and superb visibility giving the perfect view of your high value crops.
Loader Option
With significantly more powerful hydraulics providing a maximum flow of 120 l/min, the MF 3700 Series offers enhanced loader performance. Feed livestock more easily and ease the load on specialist materials handlers on the farm. The loader and linkage are fully integrated, maintaining the tight turning circle and perfect balance of the tractor.
Front Linkage & PTO
A front linkage, which lifts 1250 or 1680kg depending on the tractor variant, is now available from the factory, in three different configurations: Front Linkage only, Front Linkage + 750rpm PTO, and Front Linkage + 1000rpm PTO. The front linkage is fully compatible with the MF front utility loader.
Models
MF3707 – 75hp, Available in Vineyard / Special / Fruit / Ground Effect / Wide Fruit configurations
MF3708 – 85hp, Available in Vineyard / Special / Fruit / Ground Effect / Wide Fruit configurations
MF3709 – 95hp, Available in Special / Fruit / Ground Effect / Wide Fruit configurations
MF3710 – 105hp, Available in Vineyard / Special / Fruit / Ground Effect / Wide Fruit configurations
Specifications
Please download the Massey Ferguson MF3700 Series brochure for more information.
---
Manufacturer's Website
Massey Ferguson – www.masseyferguson.com.au
---
Have a question about this product? Call or visit our stores or enquire online.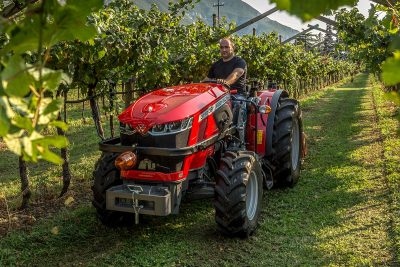 VIDEO
DOWNLOADS
---
---