Massey Ferguson
GC1700 Series
New! Updated Features, Same Outstanding Performance
2 Models | 22.8hp (16.8kW) - 24hp (17.9kW) | ROPS
Pickup Or Delivery
Stock: Enquire Online
---
GC SERIES PACKAGE DEALS
Grab the 22.8hp GC1723E for  $17,399 tractor only, or step into one of these great value packages* :
GC1723E + 60″Mower Deck =

$20,499 – $1000 Spring Rebate = $19,499

Front End Loader + GC1723E + 4-in-1 Bucket =

$24,999 – $1000 Spring Rebate = $23,999

60″ Mower Deck + GC1723E + Loader + 4-in-1 Bucket =

$28,199 – $1000 Spring Rebate = $27,199
Or grab the 24hp GC1725M for $18,199 tractor only, or step into one of these great value packages*:
GC1725M + 60″Mower Deck =

$21,299 – $1000 Spring Rebate = $20,299

 4-in-1 Bucket + GC1725M + Front End Loader =

$25,899 – $1000 Spring Rebate = $24,899

Front End Loader + GC1725M+ 4-in-1 Bucket + 60″ Mower Deck =

$28,999 – $1000 Spring Rebate = $27,999

Backhoe + GC1725M + Front End Loader+ 4-in-1 Bucket =

$33,199 – $1000 Spring Rebate = $32,199

4-in-1 Bucket + GC1725M + Front End Loader + 60″ Mower Deck + Backhoe=

$36,399 – $1000 Spring Rebate = $35,399
Enquire online or visit your nearest showroom today!
*Please note the Spring Rebate is only available when a tractor is purchased with a Massey Ferguson branded attachment. Offer valid until the 31st of December 2023.
---
Description
The Massey Ferguson GC1700 Series, compact sized tractor with BIG tractor performance. Moreover, the new GC1700 Series tractors are designed to make light work of big jobs. Furthermore, their compact size and versatile handling mean they're ideal for hobby farmers, landscapers, homeowners and residential contractors. Besides, they feature 4WD with differential lock, easy-to-operate hydrostatic transmissions, cruise control, and powerful and reliable 1.1L Iseki diesel engines. In addition, the GC1700 Series is available in two new models – the 22.8hp GC1723E, and the 24hp GC1725M. Moreover, the GC1723E replaces the previous GC1705. Furthermore, the GC1725M replaces both the GC1715 and GC1720, and can be ordered with or without a backhoe. Moreover, both the GC1723E and GC1725M can be fitted with front loaders and 60″ mid-mount mower decks. Thus, as well as the extra horsepower and backhoe compatibility, the GC1725M also boasts a few extra creature comforts over the GC1723E, such as a premium seat with armrests, and an integrated 12V charging outlet. For full specifications and a better look at the new GC1700 Series, please download the brochure.
New For This Series
Integrated Loader Joystick
An integrated joystick is now located alongside the operator, for greater comfort and control. This is included standard on all tractors.
Tilt Steering Wheel
A new adjustable tilt steering wheel allows for ideal positioning to match the height and preference of the operator.
Headlights & Massey Ferguson Design
Taking its cue from its larger siblings, the stylish ergonomic design ensures the MF GC1700 Series looks and performs like any other model in the Massey Ferguson range.
Features
Engine
3 cylinder liquid-cooled 1.1L Iseki diesel engine, built in Japan
Solid metal hood with tilt design and open/close handle for easy access to serviceable areas
Radiator with removable mesh screen to shield radiator from debris and allow access for cleaning
Operator's area
New ergonomic seat, designed to custom fit all profiles.
Uncluttered platform to ensure ample room for movement.
New integrated loader joystick included standard.
Safety lock-out lever prevents accidental joystick movement.
Cruise control engagement through push lever located on dashboard.
Three Point Linkage
A large three point linkage capacity of 540kg.
Versatility for a wide range of applications and attachments.
Independent rear and mid-mount PTO.
Dual Hydrostatic Controls Pedals
Dual Control pedals allow easy directional control between forward and reverse for maximum comfort and efficiency.
Differential lock
The differential lock can be easily engaged using the foot pedal. Combined with 4WD, it ensures consistent and reliable traction through tough and slippery conditions.
Optional Attachments
SSM60 60″ Side Discharge Mower Deck
The versatile MF GC1700 series comes with the option of a 60″ side discharge mower deck, ideal for residential or commercial lawn mowing. The deck is 'drive over' – simply roll the deck under your mower for easy, tool-free attachment. A high blade tip speed will result a superior finish to your large lawn areas.
4-in-1 Front End Loader
With the option of a self levelling, 4-in-1 loader, the MF GC1700 series is the ultimate workhorse ready to tackle virtually any application around your property or contracting tasks. 4-in-1 Loaders feature extra hydraulics and a special opening bucket, allowing you to perform extra tasks with your loader, such as levelling and grabbing.
Standard Front End Loader
Also available is a quality Australian-made standard Front End Loader, for regular scooping/dumping operation.
Backhoe (GC1725M Only)
Combining heavy-duty construction, a cast-iron bucket link, recessed grease nipples and a 12" bucket, this unit also features Boom Float, a feature typically found in construction grade equipment. When enabled, Boom Float allows free up and down movement of the boom, which lets the bucket freely follow the contours of the ground without the operator having to constantly adjust for height.This makes it much easier for the operator to position the bucket, create an even floor bed in a cut, and provide smooth grading operation when backfilling. Boom Float also provides increased operator comfort and productivity from faster digging speeds and cycle times, while reducing overall fuel consumption.The backhoe also features easy mounting and removal. Access to the three point linkage is unhindered without removing the backhoe sub-frame, due to the four-point mounting system and quick-attach design. The backhoe is also self-standing for easy storage and attachment.
GC1700 Series Models
GC1723E – 22.8hp GC1725M – 24hp, Backhoe Compatible
Specifications
Please download the Massey Ferguson GC Series brochure for more information.
---
Manufacturer's Website
Massey Ferguson – www.masseyferguson.com.au
---
Have a question about this product? Call or visit our stores or enquire online.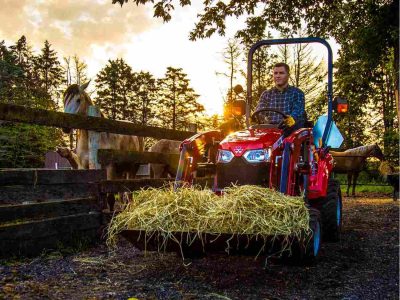 VIDEO
DOWNLOADS
---
---