Efficient Kubota Diesel - Exceptional Finish
Side & Rear Discharge | 4WD | 28" or 36" Cut Width
Pickup Or Delivery
Stock: Enquire Online
---
Available only from our Murwillumbah branch.
Description
The Kubota F Series challenges the status quo, setting a new standard for professional ride on mowers. Powered by Kubota's diesel engines, renowned worldwide for their exceptional reliability, the Kubota F series features hydrostatic transmission for quicker response, increased work speed and more muscle to tackle the toughest mowing conditions.
Offering excellent manoeuvrability, the Kubota F Series is ideal in confined areas and tight corners where competitor's mowers can't go. If you're seeking a versatile, powerful and efficient commercial mower, then the Kubota F Series is for you.
Four mower decks area available – a 60″ Side Discharge Deck, 72″ Side Discharge Deck, 60″ Rear Discharge Deck and 72″ Rear Discharge Deck. All F Series models are compatible with all deck options.
For full specifications and a better look at the F Series, please download the brochure.
Features
Performance
The F Series is powered by a Kubota 28hp or 36hp 3-cylinder diesel engine, generating a high torque rise, that ensures faster, smoother recovery under sudden loading. Allowing you to efficiently power through long of wet grass with ease.
Large 61L fuel tank keeps you working longer between fuel stops and reduces the number of fuelling stops needed to complete long jobs. That means more time working and less time fuelling up.
Auto assist 4WD works in forward and reverse, automatically controlling the drive loads on the wheels during turns. This allows you to turn with greater efficiency and ease with less wear and tear on the turf. Full-time 4WD can also be engaged.
Hydrostatic power steering reduces operator fatigue and makes it easier to mow around trees and other obstacles.
Powerful hydrostatic transmission provides quick response, excellent working speed, and more muscle for tough mowing jobs. The single pedal design lets you easily change the direction as well as control the speed.
Shaft drive means no belts or pulleys – just smooth and direct power transfer from the engine to the deck. Shaft drive also requires less maintenance and provides greater dependability.
Mower Deck
Heavy-duty cast iron pulleys and multi V belt drive system effectively distribute and reduce tension while transmitting power to the mower blades. The multi V belt won't twist or slip, reducing the chance of damage to the mower.
Stronger and more durable than conventional pressed steel decks, the F series fabricated steel decks are designed to provide years of reliable cutting performance with minimal maintenance.
Large front wheels swivel independently through 360 degrees, ensuring the deck remains above the turf, preventing turf damage.
6.0″ deep deck design lets tall grass stand up so that it can be cut more efficiently, resulting in a faster cut and cleaner appearance.
Side Discharge Deck – Pro commercial side discharge deck with an inner baffle to prevent cut grass from discharging to the front. A larger chute improves discharge performance, and also needs less power to run the mower.
Rear Discharge Deck – When side discharge won't do, mount an optional rear discharge mower deck. 60″ and 72″ sizes are available. Like the side discharge deck, the rear discharge decks also tilt up 90 degrees for easier cleaning and blade sharpening. They also feature sturdy steel construction for greater durability and front lift arms that attach directly over the center of gravity for better control.
Comfort
Includes deluxe high back seat with four separate adjustments—weight control, lumbar support, back angle, and arm rests—to provide every operator with a custom fit and optimum comfort.
Easy to read LCD digital panel provides vital information at a glance, including engine speed, remaining fuel, water temperature and hour meter.
Lever guides are designed for quick, at a glace identification. High/low speed lever and deck lifting lever is positioned beside the seat for easy operation. Tilt steering wheel can be quickly adjusted to several positions for optimum operator comfort.
Maintenance
Designed for quick and simple maintenance with quick release engine cover. A 90 degree tilt mower deck provides unobstructed access to the blades and deck underside for easy cleaning and maintenance.
Dual element air cleaner helps keep the engine running smoothly and efficiently. Air cleaner is equipped with a choke indicator that turns red when the filter needs cleaning or replacement.
Easy to clean radiator screen integrated into the engine cover to help keep the engine running cool and efficiently. Water temperature gauge and overheating alarm are provided to help prevent overheating.
Optional Attachments
Mulching Kit
Professional mulching kits are available for both the side discharge and rear discharge decks, converting them into a high-precision mulcher that produces an even finer mulch and sends it straight back into the turf.
Models
F2890 – 28hp
F3690 – 36hp
F3690SN – As per the F3690 but with Air Suspension Seat equipped standard
Specifications
Please download the brochure to see specifications for all of the models in the range.
---
Manufacturer's Website
Kubota – www.kubota.com.au
---
Have a question about this product? Call or visit our stores or enquire online.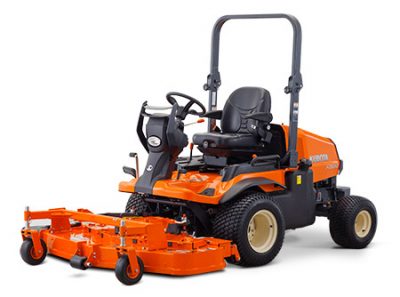 VIDEO
DOWNLOADS
---
---