Pristine Mowing, Even On Slopes And Tight Spaces
2 Models | Diesel | 3WD | 72" or 84" Cutting Width
Pickup Or Delivery
Stock: Item Available
---
Description
Heightened Manoeuvrability And Precision. World Class Cutting And Climbing.
The winning combination of superior slope capabilities and manoeuvrability makes the TR320 and TR330 the only choice when it comes to negotiating tight spaces and challenging terrain while delivering a pristine mowing performance. You and your crew will be able to maintain Jacobsen's legendary quality of cut while amping up productivity by covering more ground with one trim unit.
Easy to operate and service, the TR320 is equipped with vertical reels which create the industry's narrowest transport width, allowing you to negotiate your facility's tightest turns and corners. Built to tackle hard-to-reach areas along bunker faces, roughs, steep slopes and tight turns, the TR330 features Adaptishift, allowing operators to effortlessly shift all three cutting reels to either side of the machine, creating up to 18″ of offset. Both TR models deliver a heightened quality of cut on slopes, hills and undulations, while keeping your crew safe and productive.
Features
Key Features
Powerful diesel Kubota engine
Service-free wet parking brakes
Hydrostatic closed-loop transmission system
Direct hydraulic drive
Easy-access hood
Ergonomic fi ngertip control
Fully adjustable control arm
ROPS Frame
Optional slick or treaded tyres
3WD
Slope Capability
Both TR models feature superior slope capability with increased stability, giving you the flexibility to flawlessly mow more areas with enhanced safety.
Transport Width
The TR320 offers industry-leading transport width for its class at 1.64m, which makes manoeuvring around tight turns and obstacles a breeze.
AdaptiShift
Cutting edge, AdaptiShift technology allows the TR330 to effortlessly glide its reels side-to-side, to efficiently mow those hard-to-reach areas.
TR320
The TR320 offers all the necessary features and capabilities that turf professionals require of a triplex trim mower. Fitted with a powerful Kubota diesel engine and optional slick or treaded tyres, the TR320 is the perfect balance of power, weight and precision to keep golf courses and sports turf looking pristine.
Standard Configuration
Vertical unit lift
Multi-function gauge
26″ or 30″ reels
Options & Accessories
Light kit
Backlap kit
Canopy
Weight transfer kit
Slick tyres
Verticutting units
Grass catchers
TR330
The TR330 comes standard with advanced features that provide further precision, control and comfort when trimming any area of your facility. The TR330's AdaptiShift technology allows operators to effortlessly shift all three cutting reels to either side of the machine, creating up to 18″ of offset. This allows bunkers and other hazards to be trimmed with ease, while keeping the mower away from obstacles. By giving you and your crew the ability to do more with one machine, without sacrificing quality, the TR330 will help you get the most out of your work day.
Standard Configuration
AdaptiShift technology
On-board backlap function
Intuitive on-board diagnostics with full colour display screen
Adjustable mechanical suspension seat
26″ or 30″ reels
Options & Accessories
Light kit
Canopy
Slick tyres
Verticutting units
Grass catchers
Jacobsen® Advantage
For over 95 years Jacobsen has been renowned for industry-leading turf maintenance equipment. A strong focus on engineering innovative technology has led to advancements that deliver impeccable quality of cut on user-friendly equipment.
Specifications
Please download the TR Series brochure to see full specifications for these machines.
---
Manufacturer's Website

Jacobsen – www.jacobsen.com
---
Have a question about this product? Call or visit our stores or enquire online.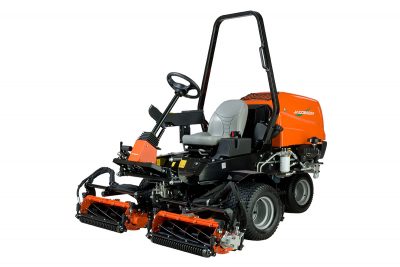 VIDEO
DOWNLOADS
---
---