Super Lightweight Fairway & Sports Turf Mower
Diesel | 3WD or 4WD | 82" Cutting Width
Pickup Or Delivery
Stock: Item Available
---
Description
Super Lightweight Reel Mower With Unmatched Contour Following.
Introducing the SLF530, a highly manoeuvrable mower delivering unrivalled quality of cut with a superb power to weight ratio. Designed with versatility and application flexibility in mind, the SLF530 is packed full of standard features, including a high-res full colour screen, which puts advanced on-board diagnostics at your fingertips. With Jacobsen's renowned quality of cut the SLF530 is the perfect choice for golf and sports stadiums where appearance is paramount.
Performance is provided by Jacobsen's legendary Classic XP Reels. These durable 45.7 cm (18") reels with TrueSet bedknife adjustment deliver superior cut quality, and reliably follow ground contours. The FlashAttach™ cutting unit mounting system also means less maintenance time, with no tools required for removal or installation. The SLF530's superior slope capability and traction keeps the machine stable and operators safe, and on-board diagnostics saves operators and service teams time and money.
Features
Key Features
Powerful and reliable diesel Kubota engine
3 or 4 wheel drive
82″ (208cm) width of cut
Mower is optimised for low ground pressure
Maintenance-free, wet parking brakes
Advanced on-board diagnostics
4″ high visibility full colour LCD control screen
Biodegradable hydraulic fluids
Ergonomic operator area
Adjustable transport speeds
Adjustable mow speeds
Backlap capable
Tilt steering wheel
Easy access hood
Fully adjustable armrest
Patented dual-pivot arm lifting system
Slick tyres
Expandable mesh storage net
Options
Choose either 3WD or 4WD to best suit your application
Slick or treaded tires available
Full selection of Classic XP Reel configurations
Jacobsen® Advantage
For over 95 years Jacobsen has been renowned for industry-leading turf maintenance equipment. A strong focus on engineering innovative technology has led to advancements that deliver impeccable quality of cut on user-friendly equipment.
Specifications
Please download the SLF530 brochure to see full specifications for this machine.
---
Manufacturer's Website

Jacobsen – www.jacobsen.com
---
Have a question about this product? Call or visit our stores or enquire online.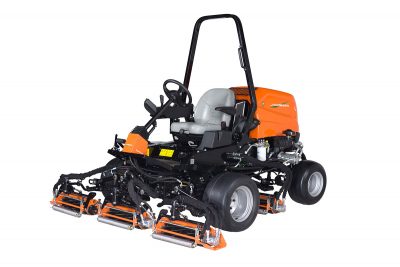 VIDEO
DOWNLOADS
---
---