One Of The Lightest Walking Greens Mowers Available
Petrol | 22" Cutting Width
Pickup Or Delivery
Stock: Enquire Online
---
Description
You can depend on the lightest walking greens mower available to limit disruption to your turf in tough conditions. A durable gear and chain drive keeps the PGM 22 by Jacobsen® mowing with little maintenance required.
Features
InCommand™ Control System – Features user-friendly D-handle with variable speed control and more functional operator presence controls.
Precision Balanced – Precisely balanced for true, straight-line tracking.
Optional Turf Groomer® – Improves turf conditions through three-dimensional mowing.
Durable Centrifugal Clutch – Engages easily for smooth operation with no adjustments required.
Models
PGM 22
Specifications
Engine
Type – Honda® GX-120
Horsepower – 2.98 kW at 3600 rpm
Maximum Torque – 7.5 Nm at 2800 rpm
Fuel Capacity – 2.5 L
Traction and Differential
Reel Drive – Chain Drive
Drive Clutch – Centrifugal
Traction Reduction Ratio – 24:1
Operator Presence Control – Standard; Controls reels and traction drive
Differential – Full automotive type, housed in traction drum
Reel Drive Drum – Aluminum Alloy
Mowing Speed – 5.14 km/h at 3000 rpm
Reels and Blades
Reel Reduction Ratio – 2.25:1
Reel Bearings – Spring-loaded, tapered roller
Reel Diameter – 127 mm
Number of Blades – 15
Blade Material – Hardened high carbon steel
Cutting Frequency – 3.8 mm
Side Frame Material – Cast-aluminum alloy
Dimensions
Weight – 83.5 kg
Height-of-Cut – 1.6 mm-11.1 mm
Width-of-Cut – 559 mm
A full range of Parts, Service and Operating Manuals is available on the Jacobsen website.
---
Manufacturer's Website

Jacobsen – www.jacobsen.com
---
Have a question about this product? Call or visit our stores or enquire online.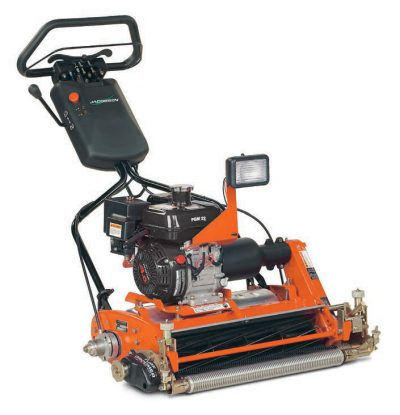 VIDEO
DOWNLOADS
---
---