Husqvarna
V548 Compact Stand On
Flip-Up Platform For Walk Behind Functionality
Fab Deck | 24.5hp | 48" Cutting Width
Pickup Or Delivery
Stock: Enquire Online
---
RRP $14,699
Our Price $14,199 –
Save $500!
Available only from our Yatala branch.
---
Description
The Husqvarna V500 series stand-on mower represents extreme efficiency in commercial mowing. With a compact footprint, landscapers can arrange more landscaping products on their truck or trailer.
Providing zero turn capability, rapid mount-dismount, unbeatable manoeuvring and ergonomic operation, operators have the best of zero turn and commercial walk behind combined. Heavy duty construction combined with industrial strength drive systems deliver long lasting operation in any commercial application.
Motor/engine manufacturer – Kawasaki
Power output – 24.5 hp
Cutting width – 48 in
Productivity – 3.7 acres/hr
Features
Palm deck release
The deck automatically lowers into position with just a tap of the palm
Flip-up platform
The flip-up platform allows operator to handle difficult terrain and areas of limited maneuvrability in a fast and efficent manner
Stand between the axles
Positioning the operator between the wheels instead of behind the wheels places weight in a more appropriate location for enhanced traction. It reduces the operator effort in staying perfectly balanced, especially during zero turn maneuvers.
Operators console
With all of the controls at the operator's fingertips and well protected by the operator assist bars, ease of use is premium.
High leverage deck lift
With an extended cast handle and spring assist, the V500 has the most ergonomic deck lift in stand-on mowing. Easy to raise and easy to lower reduces strain throughout the workday.
Tool-less removal of operators cushion
For minor service and cleaning, the removal of operators cushion is fast and efficient, keeping up-time at a maximum.
Easy disengagement of hydraulic transmission
V500 features the fastest method of disengaging the hydraulic transmissions available today. One lever pull is all it takes to make both transmissions go to bypass mode.
Kawasaki engine
Professional twin-cylinder Kawasaki engine – powerful and quiet. Pressure-lubricated, with oil filter.
5 Year Warranty
Extend your warranty period from the standard 2 Year Domestic Warranty to a 5 Year Domestic Warranty, with the purchase of a minimum quantity of genuine Husqvarna oil (either 1L, 2L or 4L) with the respective Husqvarna finished product, at the point of purchase. See the Husqvarna Warranty Page for full details.
Note – this warranty extension applies to domestic use only; commercial warranties differ. Visit the Husqvarna Warranty Page or ask in-store for details.
Specifications
Please download the Specifications – Compact Stand Ons PDF for detailed technical information on this model.
Manufacturer's Website
Husqvarna – www.husqvarna.com
---
Have a question about this product? Call or visit our stores or enquire online.
Sale!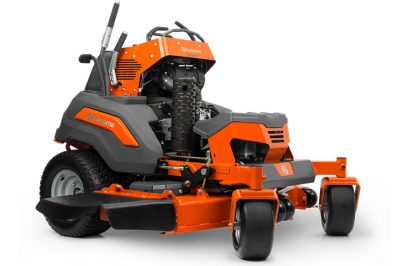 VIDEO