New! Easily Mulch Or Catch On The Fly
Integrated Catcher | 26hp | 38" (97cm) Cut Width
Pickup Or Delivery
Stock: Enquire Online
---
Available only from our Yatala branch.
---
Description
The TC 138T is ideal for homeowners and landowners with medium sized gardens who need a durable and comfortable tractor with high maneuverability. It is an efficient garden tractor that offers excellent collection of grass clippings as well as leaves, giving tidy cutting results. The spacious, integrated collector is easily emptied from the driver's seat. Equipped with a powerful Husqvarna V-Twin engine, pedal-operated hydrostatic transmission and cast front axle for extra convenient and trouble-free operation.
Motor/engine manufacturer – Husqvarna
Power output – 26.3 hp
Transmission type – Hydrostatic
Cutting width – 97 cm
Features
Pedal-operated Automatic transmission
Speed and direction are managed by pedals, which lets you keep both hands on the steering wheel, for optimum driving control.
BioClip® from seat
Easy switch between collecting and BioClip (mulching) mode by means of a dashboard-operated central actuation device. You don't have to leave the driver's seat.
Electric blade engagement
Convenient blade engagement. Simply pull a switch on the control panel.
Oversized steering wheel
Extra large and thick steering wheel for less steering effort and smoother operation.
Air Induction
Innovative Air Induction mowing system that draws clean air from the top and bottom of the deck, enhancing air flow which results in greater grass lift and superior cut.
Steel hood
Hood in solid steel construction, guarantees reduced paint fade compared to plastic.
Hour meter with service minder
Indicates when it's time to service your mower.
Heavy cast front
Heavy cast front axle provides superior balance and stability, even with a collector.
Cruise control
Allows the tractor to maintain consistent speed, even in rough terrain.
Bumper
Protects the front of the tractor effectively.
Specifications
Please download the Specifications – Ride On Mowers PDF for detailed technical information on this model.
Manufacturer's Website
Husqvarna – www.husqvarna.com
---
Have a question about this product? Call or visit our stores or enquire online.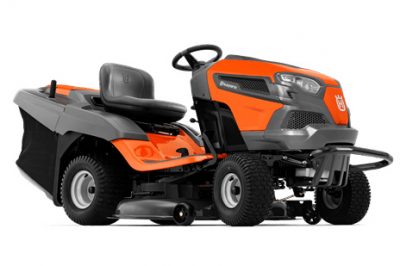 VIDEO