Professional Use - Unique Lightweight Backpack
Petrol | 1kW | 75m/s Air Speed | 6.7kg
Pickup Or Delivery
Stock: Item Available
---
Available only from our Yatala branch.
Description
The Husqvarna 530BT is a unique lightweight commercial back pack leaf blower in a class of its own. It combines very low weight and ease of use with impressive performance. The 530BT professional leaf blower includes features such as a new X-Torq® engine, harness and controls that are ergonomically designed for high capacity and ease of use.
Cylinder displacement – 29.5 см³
Power output – 1 kW
Air speed (flat nozzle) – 75 m/s
Weight – 6.7 kg
Features
X-Torq® engine
The X-Torq® engine design reduces harmful exhaust emissions by up to 75% and increases fuel efficiency by up to 20%.
High blowing capacity
The powerful and easy to start X-Torq® engine in combination with effective fan design delivers high air speed and high air flow.
Easy starting
Air purge for very easy starting.
Adjustable tube length
The blowing tube length is adjustable for best performance.
Cruise control
Fan speed can be set for easier handling.
Ergonomic handle
The handle can be angled and has rubber inserts for a stable, comfortable grip.
Comfortable harness
Comfortable padded harness.
5 Year Warranty
Extend your warranty period from the standard 2 Year Domestic Warranty to a 5 Year Domestic Warranty, with the purchase of a minimum quantity of genuine Husqvarna oil (either 1L, 2L or 4L) with the respective Husqvarna finished product, at the point of purchase. See the Husqvarna Warranty Page for full details.
Note – this warranty extension applies to domestic use only; commercial warranties differ. Visit the Husqvarna Warranty Page or ask in-store for details.
Specifications
Please download the Specifications – Blowers PDF for detailed technical information on this model.
Manufacturer's Website
Husqvarna – www.husqvarna.com
---
Have a question about this product? Call or visit our stores or enquire online.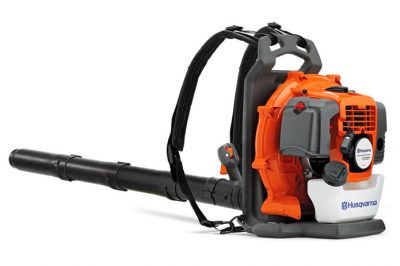 VIDEO
DOWNLOADS
---
---