Deutz-Fahr
5G Heavy Duty Series 5125G HD - 5105.4G HD
Top Of The 5G Series, With Higher HP and Hyd. Flow
2 Models | 102hp (75kW) - 126hp (94kW) | 4WD | Cab
Pickup Or Delivery
Stock: Enquire Online
---
Description
The 5105.4G HD – 5125G HD Heavy Duty Series – The All Rounder from Deutz Fahr.
For efficient work with tractors, driving and operating comfort is as important as versatility. Whether it's feed cultivation, livestock, viticulture, horticulture or municipal uses, the range of applications is getting bigger while working days are getting lon­ger.
When a tractor is 100% compatible with the task profile of the farming enterprise, it is possible to achieve great economic success. Deutz-Fahr has developed the 5G Heavy Duty Series for this purpose, underpinned by a 126 max horsepower Deutz-Fahr FARMotion common rail engine as featured in the 5125G HD.
A new heavy duty front axle equipped with internal wet disc brakes provides higher load ratings, driving comfort and safety, particularly when using a front end loader. Combined with the wet clutch heavy duty semi-powershift transmission, operators are assured of smooth shuttle movements and the right speed.
Hydraulic flow is becoming a higher requirement with many implements today and fitted to the Deutz-Fahr 5125G HD tractor is the "ON DEMAND" 90 L/min hydraulic system. This system is standard with three sets of rear remotes with flow control/detent and float functionality.
The Deutz-Fahr 5G HD series – the perfect all-rounder.
Features
FARMotion Common Rail Engine
The heart of the 5G HD Series is the powerful turbo intercooled 3820cc 4cyl common rail diesel engine. The engine utilises a turbo charger, intercooler and electronic control to develop its fantastic torque characteristics.
Engine Speed Programming
The engine speed programming feature allow you to set and retrieve engine rpms. This feature improves fuel efficiency compared to a mechanical throttle engine.
Transmission
Easy to use Semi-Powershift transmission fitted with either a 2 or 3 speed Powershift. This gives you plenty of gear options from 230m/hr to 40km/h at a reduced engine rpm. The wide variety of options allows almost unlimited variations, capable of fulfilling all your work speed requirements.
Sense Clutch Powershuttle
A heavy duty wet clutch Powershuttle with a 5 speed modulation control allows to guarantee smooth directional changes when shuttling forward and reverse. To facilitate quick, repetitive operations, the shuttle lever is located in an ergonomic position to the left of the steering wheel.
Stop & Go
It's in the name – the Stop & Go allows you to stop and restart the tractor without having to use the clutch pedal. The tractor's electronic management system allows the brake pedal with speed control, a particular feature that makes the 5 series an unbelievably user-friendly front-end loader tractor.
Cabin
Hydro Silent Block Cab Suspension – Cab vibration is reduced up to 40% thanks to Hydro silent block cab suspension. This gives you a smooth ride over the paddock and increases comfort.
4 Speed PTO
The PTO on the has standard speeds (540/540ECO/1000/1000ECO) with electronic hydraulic engagement.
Auto PTO Function
The PTO is simple and logical to handle, thanks to the electro-hydraulic controls on the right hand side of the console. The Auto PTO function allows the PTO to engage / disengage automatically determined by linkage height.
SDD Rapid Steering Valve
SDD means steering double displacement when engaged steering revolutions from lock to is 2.2 turns compared to 4.5 when disengaged. Great for loader work!
Hi-Visibility Glass Roof
A wide glass sunroof is fitted as standard to allow full upward vison when using a front end loader allowing the operator not to get a sore neck when loading hay.
Easy Maintenance
Easy access to Radiators and Airfilters.
Electronic Linkage
The electronic linkage unit fitted to the 5G HD series is easy to use with Position control, Draft control, Drop speed Control and Upper limit control all fitted as standard.
On Demand 90L/min Hydraulic System
This system is engaged with a button to give you more hydraulic flow. Maximum flow is achieved at only 1000 engine rpm with 80L/min available through a remote valve.
Models
5125G HD
5105.4G HD
Specifications
Please download the Brochure and Specifications for more information.
Manufacturer's Website

Deutz Fahr – www.deutztractors.com.au
---
Have a question about this product? Call or visit our stores or enquire online.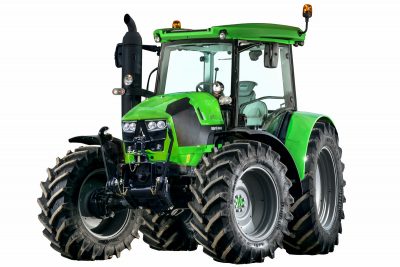 VIDEO
DOWNLOADS
---
---
---