Dedicated Spraying Vehicle For Unmatched Coverage
636L or 1136L Tanks | Petrol or Diesel | 2WD or 4WD
Pickup Or Delivery
Stock: Enquire Online
---
Description
Cover More With Precision And Control
The new SprayTek XP features a smaller footprint and deep sump, allowing superior coverage on slopes and flat surfaces. The advanced tank design reduces chemical waste and agitation to ensure mixture, while also increasing operator visibility and stability with a low centre of gravity. A powerful, corrosion-resistant stainless-steel centrifugal pump provides a steady flow for spraying and agitation, while Life Guard silicon carbide seals increase durability and wear resistance.
Choose from a petrol or diesel Kubota liquid-cooled engine, 2 or 4-wheel drive, and a multitude of control and boom options to experience the perfect spraying performance for your course.
Features
Key Features
Choice of 24.8hp diesel or 32.5hp petrol Kubota engines
Choice of 2WD or 4WD
Choice of 663L (175 gallon) or 1136L (300 gallon) tanks
Hydrostatic power steering
Advanced Tank Design
Tanks are available in 663L (175 gallon) and 1136L (300 gallon) low-profile impace resistant polyethylene. The design reduces chemical waste and agitation to ensure uniform mixture. Agitation is adjustable and can be turned on and off from the operator platform.
Powerful Pump
Corrosion resistant stainless steel centrifugal pump provides 242L/min (64 gallons/min) and 4.14bar (60psi). Equipped with Lifeguard Silicon Carbide seals for increased wear resistance.
Control Options
Range of control options available, from reliable manual electric systems for pressure based spraying, to computer control for flow-based systems and advanced GPS mapping systems for reduced chemical cost.
Durable Triangular Truss Boom
Truss boom offered in widths of 4.57m (15ft), 5.64m (18.5ft), and 6.1m (20ft) widths, with breakaway protection. The booms are cross-folding for narrow transport width, and the tri-tripped nozzles are recessed for protection. Also available with advance precision control booms.
Options & Accessories
Full Line of Boom and Control Options
Quick Foam Marking System
Manual or Electric Hose Reel
Spray Gun
Clean Load Chemical Education System
Two or Four-Post ROPS
Canopy
Premium Suspension Seat
Cab
Storage Accessories
Work Light Kit
CE Compliance Option Kit
Tank Wash System
Water Fill Meter Kit
Specifications
Please download the SprayTek XP brochure to see full specifications for this machine.
---
Manufacturer's Website

Cushman – www.cushman.txtsv.com
---
Have a question about this product? Call or visit our stores or enquire online.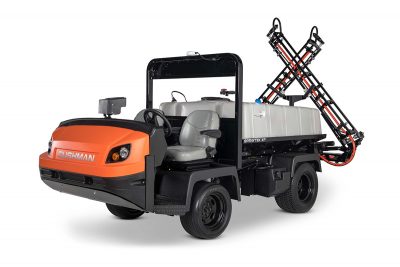 VIDEO
DOWNLOADS
---
---