Cub Cadet
Enduro XT1 LT 42e Electric
New! Future Is Now - Electric Without Compromise
Fabricated Deck | Lithium-Ion | 42" (107cm) Cut
Pickup Or Delivery
Stock: Enquire Online
---
Charge Ahead With Cub Cadet Lithium-Ion Battery Riders
When Cub Cadet designed our industry leading new line of battery-powered lithim ion mowers, we didn't compromise on power, consistency or performance. With a quieter operation, zero emissions, lower maintenance and the added versaility of optional mulch plug and catcher fitment, you can enjoy your mowing experience more. The Cub Cadet battery rider range delivers the performance you expect from a petrol-powered mower, using the latest battery technology.
Description
The advanced Lithium-Ion powered XT1 LT 42e from Cub Cadet is the future of ride on mowers.
No power lag from the strong 56V, 60 Ah electric motor means you can power through your grass and get a cleaner cut. No need to buy petrol and minimal ongoing maintenance means the running costs are extremely low. Simply put it on charge when you're done and you're ready to go next time. No hassle, no fuss.
Features
Key Features
Li-Ion Battery Power
Large 107cm (42″) Cutting Deck
1.5 Hours Run Time
3 Year Unlimited Hour Unit and Battery Warranty
Less Maintenance
No need for gas, oil changes, spark plugs, belts or even pulley maintenance.
No Power Fade
Lithium-ion technology allows for full speed and consistent, high-powered performance without fading.
Premium Cut
Two brushless motors deliver power to a 13-gauge steel, direct drive, twin blade cutting deck.
Automotive-Inspired Handling
Optimized steering system delivers a one-touch 16-inch turn radius.
Ride In Comfort
Premium 15-inch adjustable cut-and-sew seat with 10° incline and slide slope.
Smooth Operation
A fully electric transmission means no shifting; just push the pedal and go.
Easy To Use
Push button start and cruise control to maintain a desired speed for consistent mowing.
Powerful Illumination
LED headlights provide comfortable and precise cutting at dawn or dusk.
Zero Emissions
No exhaust, carbon monoxide, or unburned hydrocarbons from the on-board source of power.
Strong Warranty
Built in America and backed by a 3-year domestic unit and battery warranty.
Accessories & Attachments
Mulching Kit (optional)
Catcher (optional)
Specifications
Please download the Cub Cadet Electric Range product brochure for full model specs.
Warranty
Domestic Only – 3 Year Unlimited Hour Unit & Battery Warranty.
---
Manufacturer's Website
Cub Cadet – www.cubcadet.com.au
---
Have a question about this product? Call or visit our stores or enquire online.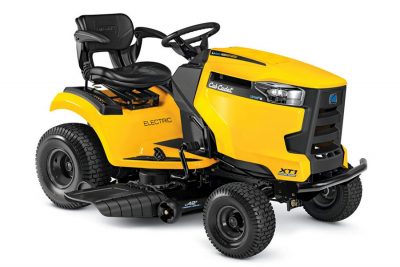 VIDEO
DOWNLOADS
---
---