Stand On - Power And Space Saving Convenience
Fab Deck | 19hp - 23hp | 36" - 52" Cutting Width
Pickup Or Delivery
Stock: Item Available
---
Description
Outstanding Performance
Jump on and start cutting. This machine is easy to operate and will take you exactly where you need to go. Featuring our legendary Velocity Plus cutter deck (48″ and 52″ models), heavy-duty cast-iron spindles and tough Ogura PTO clutch, the V-Ride™ is ready to conquer any terrain. Its spacious flip-up operator platform and coil spring suspension system absorbs the bumps for a smooth, less taxing ride. Several engine options are available to meet your specific power needs, enabling ground speeds up to 17.7km/h (11mph). A wide stance platform and large drive tires give you confidence-inspiring traction and stability as you traverse the turf. Built to last, the V-Ride is a solid performer that will provide years of dependable service.
Features
36″ Advantage™ or 48″ and 52″ Velocity Plus™ cutter deck provides an unmatched quality-of-cut and wide, even discharge. Tri-plate deck top is nearly 1/2″ thick.
Spacious operator platform with coil spring suspension delivers a smooth ride and reduces operator fatigue.
Entire operator platform lifts up and out of the way to save space on the trailer, and allows you to walk behind the mower when needed.
Scag® heavy-duty cutter deck spindles with 1 1/8″ hardened steel shaft, cast-iron housing and greaseable, tapered roller bearings provide reliable strength. Spindles covered by a 3-year warranty.
Strong, reliable Ogura PTO clutch engages and disengages the blades quickly and easily with adjustable air gap for long life.
Powerful and efficient Kawasaki engines provide smooth, reliable power.
Heavy-duty canister air filter available on Kawasaki FX engines.
Heavy-duty steel frame construction ensures a solid foundation for long life.
Large drive tires provide surefooted traction: 18″ tires on the 36″ model, 20″ tires on the 48″ and 52″ models.
Rugged, dual hydraulic drive system delivers dependable power with 10-cc Hydro-Gear pumps.
Productive ground speeds help get the job done fast: up to 13.68km/h (8.5mph) on the 48″ and 52″ models, and up to 12.39km/h (7.7mph) on 36″ model.
Auxiliary hydraulic oil cooler reduces temperatures, extending hydraulic system component life (48″ and 52″ models).
Ergonomic operator controls provide incredible ease-of-use along with maximum comfort. Intuitive control design minimizes learning curve for new operators.
Large 30.28L (8-gallon) fuel tank on the 52″ model and 18.92L (5-gallon) fuel tank on the 36″ and 48″ models. All models feature large, angled filler neck and fuel gauge for operator convenience.
Flat-free (semi-pneumatic) front caster tires eliminate downtime and expense caused by flat tires.
The V-Ride™ is covered by a strong 2 Year Commercial or 3 Year / 500 Hour Non-Commercial mower warranty. See the Scag Limited Warranty Statement for details.
A variety of accessories are available for the V-Ride™, such as Fabric grass catchers, Chrome wheel covers, Hurricane Mulch Kit, Mulching plate, Blade Buddy and Operator-Controlled Discharge Chute (OCDC)
Scag Mowers – Made in the USA
Who are Scag? If you are in the market for a commercial mower, you have probably discovered that there are countless choices available. So… what makes Scag 'Simply the Best'?
Since 1983, Scag has been producing heavy-duty commercial mowers. We listen to our customers, and constantly make the changes needed to meet their needs. This constant product evolution has enabled us to retain our title as the premiere commercial mower line in the industry. This quality is evident in the construction and design of every mower we build. It's hard to find a light gauge piece of steel on our mowers. You can find less expensive mowers, but you won't find a better one.
Testimonial
"People always ask me, 'Why Scag, and why not something else?' Scag is 'Simply the Best; no one can compare. Everything is built to last, and each machine has been perfected in its own way. When you pick Scag, you know you are getting the best quality machine on the market! Scag has helped shape my business by creating a beast of a machine. When I show up to a job, I know it's going to be done to perfection with my Scag."
Kyle Szemreylo, KES Lawn Care, Marlbrough, CT, USA
Models
36″ Advantage Cutting Deck with Kawasaki 19hp FX – SVR36A-19FX
48″ Velocity Plus Cutting Deck with Kawasaki 22hp FX – SVR48V-22FX
52″ Velocity Plus Cutting Deck with Kawasaki 23hp FX – SVR52V-23FX
Specifications
Please download the specs *.pdf to see specifications for all of the models in the range
Warranty
The Best Warranties You'll Probably Never Need
2 Year Commercial Warranty. Most new Scag mowers are covered by a limited two-year warranty for commercial use (excludes Freedom Z and Liberty Z). This warranty covers manufacturing defects for two years, including parts and labor.
3 Year / 500 Hour Non-Commercial Warranty. Most new Scag mowers are covered by a limited three year or 500 hour warranty (whichever comes first) for non-commercial use. See the Scag Limited Warranty Statement for more details. This warranty covers manufacturing defects for up to three years, including parts and labor. This limited warranty is for non-commercial owners only (excludes Liberty Z models).
Velocity Plus 3 Year Deck and Spindle Warranty. Scag Velocity Plus cutter decks and cast-iron blade spindles are warranted against manufacturing defects for three years, parts and labor for two years, and parts coverage for the third year. See the Scag Limited Warranty Statement for more details.
---
Manufacturer's Website

Scag – www.scag.com
---
Have a question about this product? Call or visit our stores or enquire online.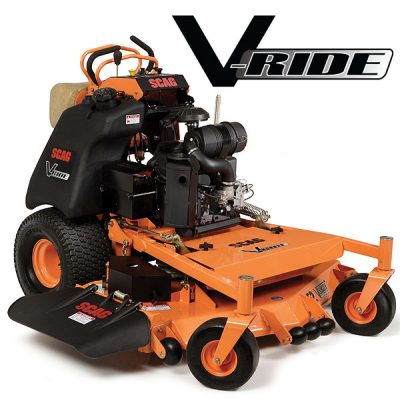 VIDEO
DOWNLOADS
---
---