Massey Ferguson
MF6600 Series
Latest 4 Cylinder Tech To Match Pulling Power Of A 6
4 Models | 120hp (88kW) - 140hp (103kW) | Cab
Pickup Or Delivery
Stock: Item Available
---
Description
Compact, maneuverable, with a perfect power-to-weight ratio.
With the new MF6600 Series, Massey Ferguson introduces the very latest in 4 cylinder engine technology to a power band that previously was the domain of 6 cylinder tractors. The MF6600 blends all the benefits of a 4 cylinder machine – compact dimensions, low overall weight, good maneuverability – with the pulling, pushing and lifting power to match a comparable 6 cylinder tractor. The new MF6600 Series offers the highest performance of any 4 cylinder tractor on the market today. All models show perfect power-to-weight ratio for extraordinary all-round machine ability and agility in all applications.
The Massey Ferguson DNA that runs through all MF tractors is immediately apparent upon first glance at the MF6600 models. They take styling and design cues from the smaller ranges and the larger ranges, with features that have proven themselves straightforward, dependable, practical and valuable on those machines. But our engineers recognise that, in this power bracket, it's essential for a tractor to be versatile, flexible, suited to the whole spectrum of tasks across arable, mixed and dairy farm businesses, as well as contracting operations.
With models in the range, spanning max powers of 135 hp to 165 hp, there is an MF6600 tractor to match every size and type of operation. A choice of two specification levels and three transmissions – Dyna-4 four-speed and Dyna-6 six-speed powershifts, plus Dyna-VT CVT – means that MF6600 tractors can be ordered to meet your exact requirements.
For full specifications and a better look at the MF5600 Series, please download the brochure.
Features
AGCO POWER Engines
The very latest 2nd generation SCR with 4.9 litre capacity that provide the perfect blend of power, weight and compact dimensions with the ultimate in fuel efficiency for maximum performances without compromise.
Ultimate choice of transmissions
Drive options including Dyna-4 and Dyna-6 powershifts, plus the Dyna-VT continuously variable transmission. Dyna-4 and Dyna-6 come with Engine Power Management for extra power delivery in more demanding applications.
Fuel and AdBlue® tank
New large fuel and urea tanks enable extra long working days while offering easy accessibility and good ground clearance without impeding cab access.
Two Levels of Cab Specification
Specification levels – Essential and Efficient – allow tractors to be tailored to individual customers' requirements and budgets.
Hydraulics
Powerful hydraulics to provide 100 or 110 l/min of oil flow via up to four double-acting spool valves and an electronically-controlled linkage.
Front Linkage for maximum productivity in the field
A front linkage and PTO which are seamlessly integrated into the front end of the tractor, for full strength yet complete convenience, alongside the 4WD axle and optional front suspension.
Massey Ferguson unrivalled look
A single-piece hinged bonnet, with unique Massey Ferguson styling offers a clean look providing easy access for engine servicing and inspection, with a waisted design for excellent manoeuvrability and visibility.
Packed with straightforward onboard technologies
Available with the AutoGuide 3000 hands free steering system and AGCOMMAND™ monitoring and telemetry.
Models
MF6612 Dyna-4 Transmission
MF6613 Dyna-6 Transmission
MF6614 Dyna-6 Transmission
MF6614 Dyna-VT Transmission
Specifications
Please download the brochure to see specifications for all of the models in the range.
---
Manufacturer's Website

Massey Ferguson – www.masseyferguson.com.au
---
Have a question about this product? Call or visit our stores or enquire online.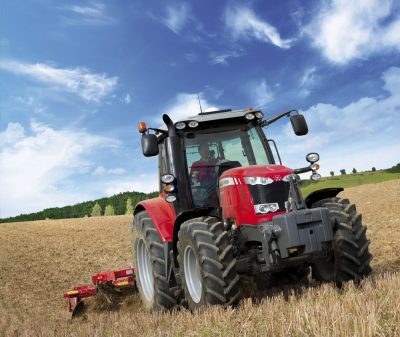 VIDEO
DOWNLOADS
---
---