Pure Performance & Optimum Loader Handling Ability
105hp (77kW) | PTO 89hp (66kW) | Powershift | Cab
Pickup Or Delivery
Stock: Item Available
---
Description
Your versatile, dependable workhorse.
With more than 50 years of farming experience and expertise, Massey Ferguson has created the MF5600 Series for you. It blends sophistication with straightforward operation and offers high comfort and superb control. Whether the day includes feeding cows, moving loads and baling, or spraying, spreading, ploughing and cultivating – MF5600 tractors are designed and engineered to handle the workload.
The MF5600 Series is currently only available as the MF5610 – a compact chassis with 105hp from a 3.3 litre three cylinder AGCO POWER engine.
The MF5610's Dyna-4 tranmission eases the workload with effortless shuttling between forward and reverse, and clutchless speed and range changes – which can also be automated with the AutoDrive feature. Powerful, easy to use hydraulic systems respond quickly and smoothly to all demands, delivering the productivity you need to get the job done.
The option of close-coupled front linkage enables two operations to be done simultaneously to increase output. Impressive PTO power will meet the demands of every implement, with a range of speeds and simple, convenient control.
Outstanding visibility over steep nosed bonnets, high flow hydraulics and great agility make all models the perfect loader partners.
The MF5600 Series is designed to deliver high performance from early dawn to late into the night. We know cab comfort and convenient controls are not luxuries – they are essential. All tractors are equipped with a high quality, spacious working environment with a wide range of effortless and automated controls to help you concentrate on getting the job done quickly and efficiently.
Features
Compact, agile short wheelbase model
3.3L 3 Cylinder engine
Outstanding maneuverability, visibility and features for loader operations
Dyna-4 transmission
Automatic low idle speed
High visibility pivoting bonnet
Compact cooling package
Brake to Neutral function
Integrated front linkage and PTO
Electronic linkage control
Spacious, comfortable high visibility cab
Cab suspension
Cab roof and height options to suit
Models
MF5610 – 105hp, Dyna-4 transmission, 'Essential' specification, Cab
Specifications
Please download the brochure to see specifications for the MF5610.
---
Manufacturer's Website

Massey Ferguson – www.masseyferguson.com.au
---
Have a question about this product? Call or visit our stores or enquire online.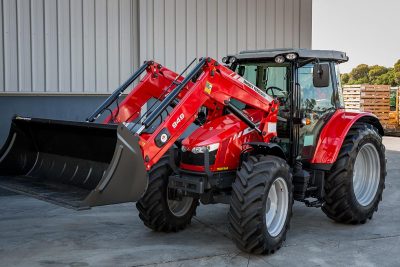 VIDEO
DOWNLOADS
---
---