Massey Ferguson
MF4700/5700 Series
A Globally Renowned Tractor Designed For All Challenges
6 Models | 74hp (55kW) - 102hp (76kW) | ROPS
Pickup Or Delivery
Stock: Item Available
---
Description
Global Series – A New Tractor For A New World
Massey Ferguson's resilient utility tractors have been built to service Australia and New Zealand's farming communities. Designed from the ground up, these world-class Global Series tractors can handle our rich agricultural landscape with proficiency and ease. Manufactured to exact standards, Massey Ferguson Global Series tractors are built in the latest high-technology facilities to ensure farmers experience an unbeatable performance, every day.
To ensure customers have the most suitable option for their operation, there are two specification variants, Standard and Essential, available on all Global Series tractors.
These two variants offer a simple, cost effective base option for customers wanting the minimum options for low-hour operation and a more advanced option for customers wanting improved comfort, functionality and ease of operation for longer operating hours.
Standard Variant
Footstep operator's station with side mounted gear selectors
Platform mounted pedals
Mechanical Clutch
Mechanical Synchronised forward/reverse shuttle located to the left of the operator
Mechanical brakes
Essential Variant
Semi-platform operator's station with side mounted gear selectors
Pendant pedals
Power Control Lever with comfort control and wet clutch
Hydraulic brakes
Flat platform
For full specifications and a better look at the Global Series MF4700/5700 range, please download the brochure.
Features
Meagre on fuel, low on noise
The engines used in the Global Series tractors are all of a long stroke design that provides high levels of torque across a broad speed range. Maximum torque is achieved at a low engine speed of 1,500 rpm on both models. With a low rated engine speed of only 2,200 rpm, not only is diesel use minimised, but so too are both noise and wear and tear, resulting in lower fuel bills and a more pleasant operator experience.
Choice of Engines
Two engine options are available: A 3.3-litre AGCO POWER three-cylinder engine in the 74 hp Massey Ferguson 4707, and a 4.4-litre AGCO POWER four-cylinder engine in the MF4708 and MF5700 Series
Synchromesh Transmission
The Massey Ferguson Global Series tractors feature all new synchromesh transmissions. With six automotive-style synchronised gears and a synchronised low to high range change, the total of twelve forward and twelve reverse speeds provide unmatched flexibility and easy use.
Choice Of Shuttle Options
Standard Variants use a synchronised mechanical forward and reverse shuttle. Clutch operation is a simple and effective mechanical dry-plate type giving great functionality in a cost effective package. Essential Variants use a power shuttle with the Massey Ferguson Power Control Lever, allowing clutchless forward and reverse shifting and featuring the Comfort Control dial to alter the aggressiveness of the direction change.
Power any implement
There is no limit to the range of powered equipment that can be put to work behind the Global Series tractors. All are fitted with a 35 mm/six-spline PTO shaft providing a 540 rpm PTO speed and protected by an independent PTO clutch (IPTO). 540/540E is base on all Global Series Essential Variants.
In total control
Base on all models, the 4WD front axles feature a 55° maximum steering angle, making the machines very maneuverable and easy to use in confined spaces. Standard Variants feature a limited slip differential, while Essential have an electro-hydraulic differential lock.
Models
MF4707ST Standard
MF4708ST Standard
MF4707ES Essential
MF4708ES Essential
MF5709ES Essential
MF5710ES Essential
Specifications
Please download the brochure to see specifications for all of the models in the range.
---
Manufacturer's Website

Massey Ferguson – www.masseyferguson.com.au
---
Have a question about this product? Call or visit our stores or enquire online.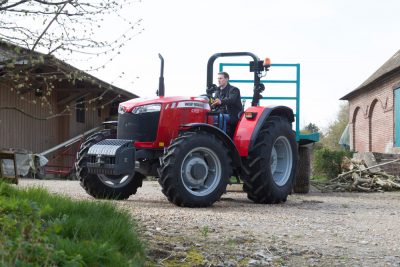 VIDEO
DOWNLOADS
---
---